If you're visiting after seeing me bake on the Daily Dish…welcome! If not…still welcome! Ha. Anyway. Today I bring you the down-low on incorporating roses into your cake recipes.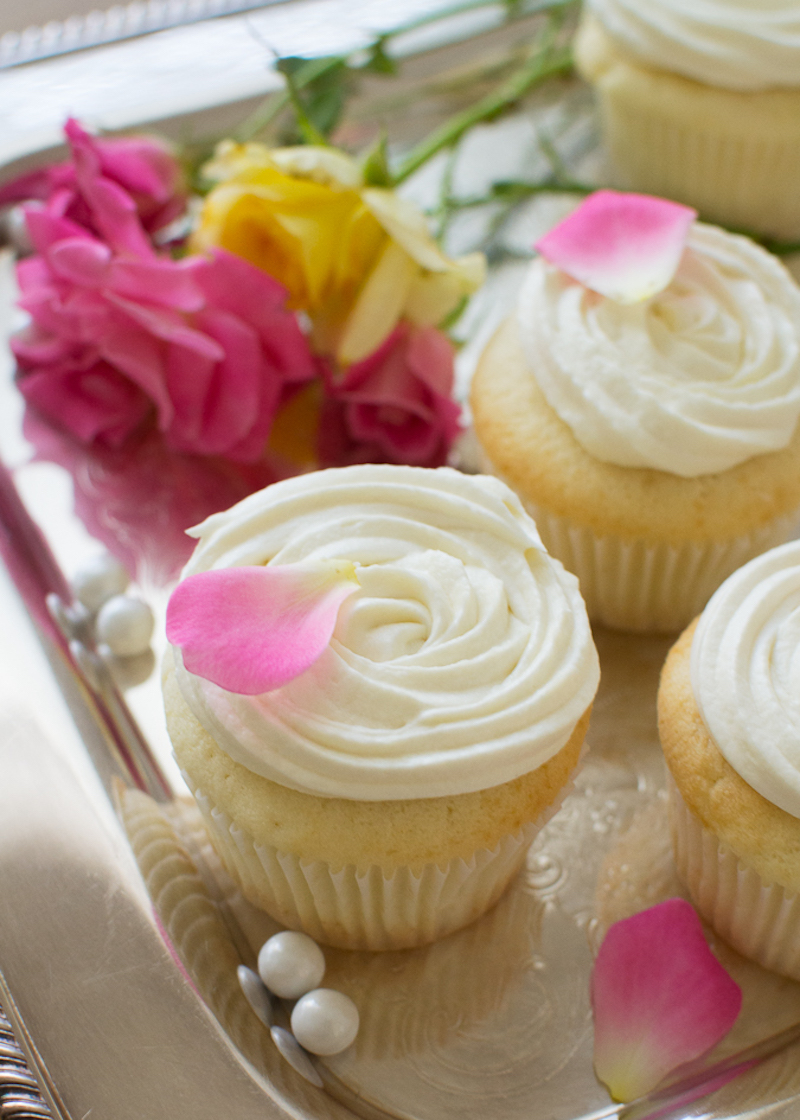 The good news is this: It's so easy. It's really just a matter of knowing what ingredients you need and what to do with them. These are the 3 rose-flavored ingredients you'll encounter:
Rose water. Don't let the word "water" fool you—this stuff is dang powerful. You can purchase it in small bottles at specialty food stores like Whole Foods and Williams-Sonoma for about $7 a bottle. It may sound pricey, but if you're used to baking with nice vanilla, then the cost is actually pretty decent. (Fact: True vanilla is actually one of the most expensive spices!) You can also get rose water for cheaper in larger quantities at international markets and on Amazon. As for how much to use, you generally use about as much as you would any other extract in a recipe. This is the most popular option; even bakeries use it.
Rose extract. So far, I have only seen this on Amazon. This is like rose water but more concentrated. You would only use a few drops in a typical cake recipe.
Rose petals. Firstly, these must be organically grown. No pesticides. No roses from the side of the road (car exhaust). Secondly, nope, you do not have to crush up any petals. These are generally used just as garnish for rose-flavored things. Just be sure to clip off the little bitter white part at the base of the petal. You may use them as-is or dip them in egg whites and sugar and let them set for an hour before garnishing.
One other thing worth noting when it comes to baking with roses (or any type of flower for that matter): Err on the side of not using enough of the floral ingredient. You don't want your food to taste like soap!
Okay, last thing. Rose-scented sugar is another option. This involves filling a jar with sugar and a generous amount of fresh, highly fragrant rose petals (the more fragrant they are, the better they taste) and then letting the jar sit for a few weeks. Sift out the petals when you're ready to use the sugar.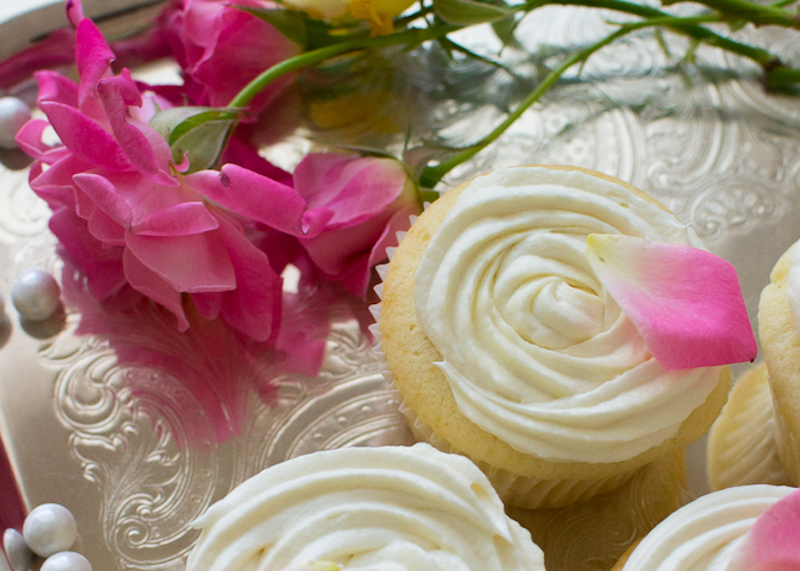 Vanilla Rose Cake or Cupcakes
Makes 12 cupcakes or enough batter for one 9″ round cake pan. (Note that a typical cake involves doubling the recipe and baking two pans' worth of batter.)
Ingredients
1 2/3 cups cake flour
1 tsp baking powder
1/2 tsp salt
1/2 cup butter, cut into pieces
1 cup sugar
2 eggs
3/4 cup milk
1 tsp vanilla
1 tsp rose water
Method
If you haven't already, you should check out my basic cake baking method and my list of cake baking tips! Every cake batter recipe I post follows that same method, and my cake baking tips are great tips to memorize for whenever you're preparing a cake batter such as this.
Preheat the oven to 350°F.
In a medium-sized bowl, sift together the flour, baking powder, and salt.
In a larger bowl, beat the butter at a high speed, and gradually beat in the sugar. Then, beat in the eggs one at a time.
Now you will gradually be adding the dry mixture and the milk to the butter-sugar-egg mixture. To do this, alternate mixing in some of the dry mixture, followed by some milk, followed by some dry mixture… You get the picture. Do that until you've incorporated the dry mixture and the milk completely. Just don't over-mix here.
Finish by incorporating the vanilla and rose water.
Baking time! For cupcakes, fill your liners 2/3 full and bake for 17 to 22 minutes. For a cake, fill a greased 9-inch round cake pan about 2/3 full with batter and bake for 30 to 40 minutes. Use the toothpick test for perfect doneness.