German Chocolate Cake, unsurprisingly enough, is not actually German. The name comes from a man named Sam German, who created a special type of dark baking chocolate in 1852 for Baker's Chocolate Company. This chocolate was sold as Baker's German's Sweet Chocolate in honor of him, and later on in the 1950s, one woman created the famous cake recipe using this chocolate. Hence, German's Chocolate Cake. We simply dropped the 's after a while.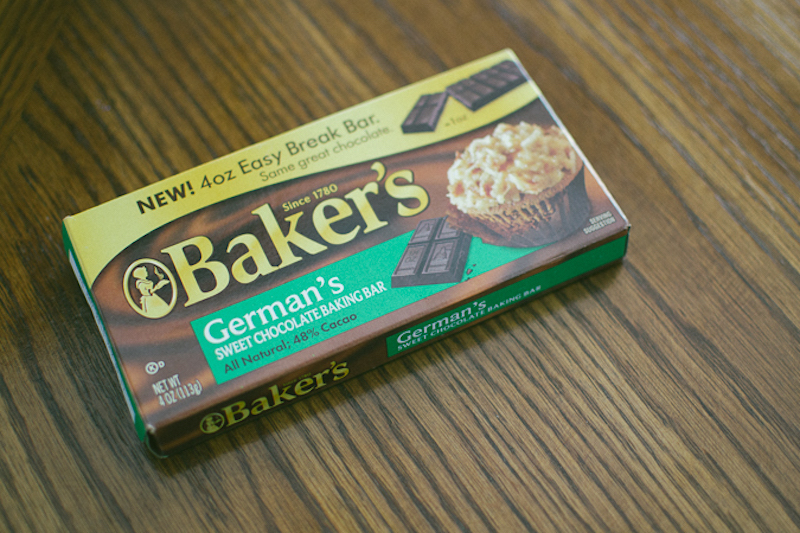 Anyhow, German Chocolate Cake is really interesting because there are so many factors that go into a "true German Chocolate Cake." Here is a list of things that set it apart from our typical idea of chocolate cake:
contains cake flour—many chocolate cakes have all-purpose flour in them for that denser texture, but cake flour makes this cake light and fluffy
it's sweeter—this type of cake uses German-style sweet chocolate instead of unsweetened chocolate
it has a particular frosting—not many cakes have a frosting paired with it, but this one does…it's traditionally caramel-flavored and laced with coconut and pecans
you add egg yolks and whites separately—you'll see this further down in the directions, but basically you add the yolks at the normal egg-adding time, and then the egg whites, beaten until they form stiff peaks, are folded in at the very end (for extra fluffiness)
German Chocolate Cake or Cupcakes
Makes 18 cupcakes or just over enough batter for one 9″ round cake pan. Remember that you need to double the recipe if you're making a full-sized cake.
Ingredients
1 1/2 cups cake flour
1/2 tsp baking soda
1/2 tsp salt
1/2 cup butter
2 oz. Baker's German's sweet chocolate
1 cup sugar
2 eggs, separated (yolks in one bowl, whites in the other)
1/2 cup buttermilk*
2 tsp vanilla
* Don't have this? It's all good—put 1/2 TB of lemon juice in a measuring cup and add enough milk to make 1/2 cup. Let sit 5 minutes before using.
Method
If you haven't already, you should check out my basic cake baking method and my list of cake baking tips! Every cake batter recipe I post follows that same method, and my cake baking tips are great to memorize for whenever you're preparing a cake batter such as this.
Preheat the oven to 350°F.
In a medium-sized bowl, sift together the flour, baking soda, and salt. Set aside.
In a larger, microwave-safe bowl, melt the butter and chocolate by microwaving it at reduced power (around 70%) for about 90 seconds. Stir well until completely melted.
Mix the sugar into the chocolate mixture. Then, beat in the egg yolks one at a time.
Now you will gradually be adding the dry mixture and the milk to this mixture. To do this, alternate mixing in some of the dry mixture, followed by some milk, followed by some dry mixture… You get the picture. Do that until you've incorporated the dry mixture and the milk completely. Just don't over-mix here.
Stir in the vanilla.
Now beat the egg whites until you get soft peaks…then fold into cake batter. (To fold, gradually add the stiffened egg whites to the batter and use a gentle cutting-and-turning motion with a rubber spatula to incorporate. No stirring!)
Baking time. For cupcakes, fill your liners 2/3 full and bake for 17 to 22 minutes. For a cake, fill a greased 9-inch round cake pan about 2/3 full with batter and bake for 30 to 40 minutes. Use the toothpick test for perfect doneness.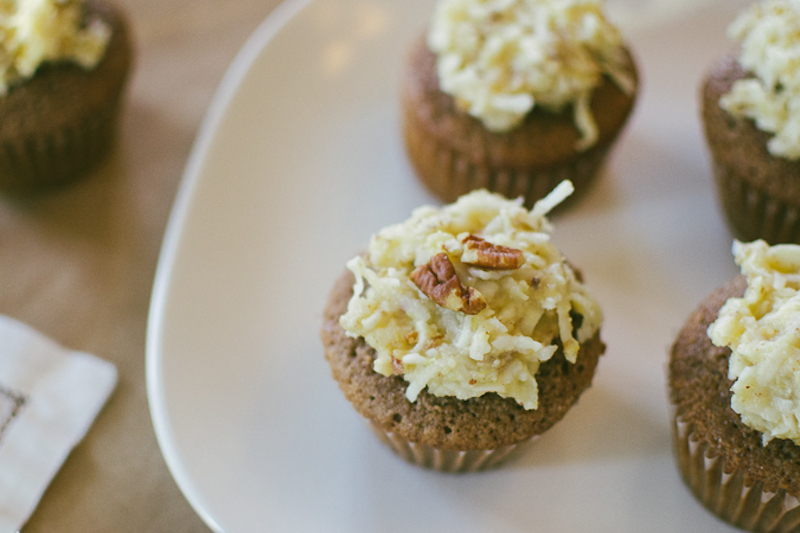 As for the frosting, for a true German Chocolate Cake, you'll want a coconut pecan mixture like what I've topped these cupcakes with. Get the recipe for Coconut Pecan frosting here!