Perrrfect timing on these, am I right? Yeesh, it's getting cold here in Utah. I'm still in denial and am walking outside every day wearing flats. Sigh… Well, today I present the "hot chocolate" cupcake. It's really quite simple: a chocolate cupcake topped with marshmallow cream frosting, which is a creamy tasting frosting with a hint of marshmallow flavor to it. (The secret is the added ingredient of marshmallow creme…shocker…)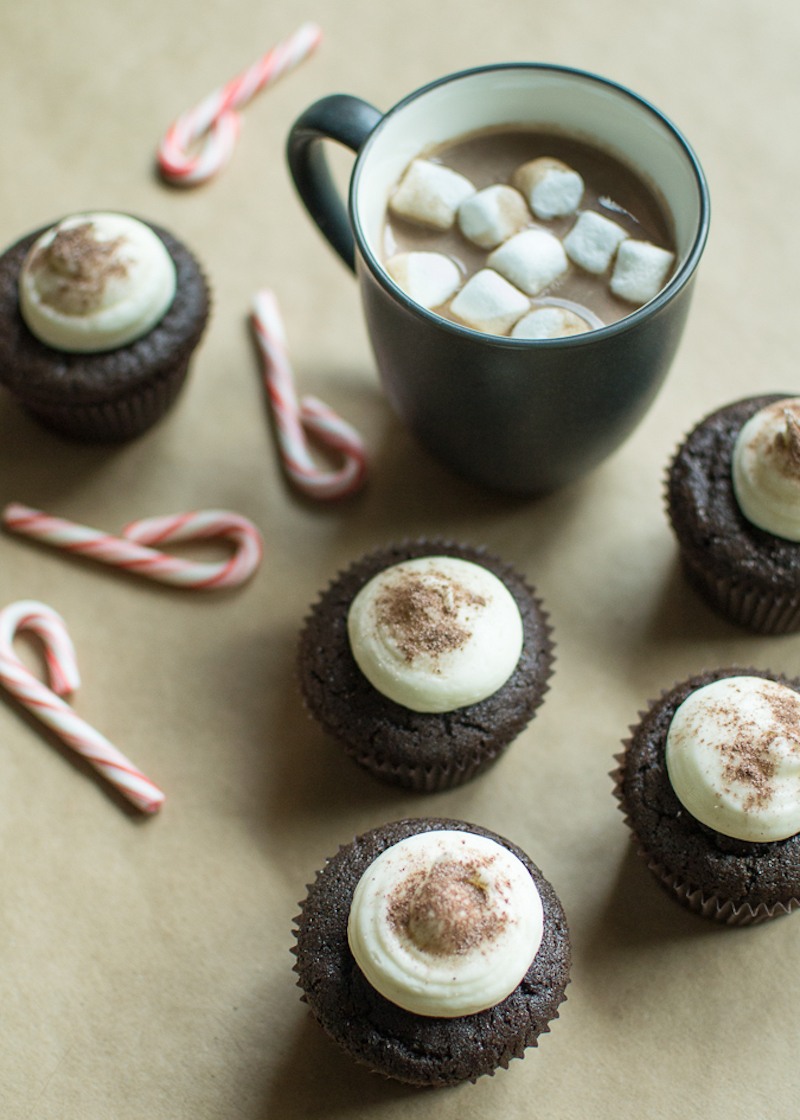 These can make for a fun winter activity, actually, because there are so many great ways to garnish them. A few garnish ideas for ya:
crushed candy canes
a whole miniature candy cane
powdered hot chocolate (my fave)
marshmallows
a paper straw (Do people ever drink hot chocolate through a straw?)
whipped cream instead of frosting! (which you'd need to serve immediately)
Basic Chocolate Cupcakes
Makes 14 cupcakes or just over enough batter for one 9″ round cake pan. Remember that you need to double the recipe if you're making a full-sized cake.
Ingredients
1 cup all-purpose flour
1/2 tsp baking soda
1/4 tsp salt
2/3 cup natural cocoa*
2/3 cup vegetable oil
1 cup sugar
2 eggs
2 tsp vanilla
1/2 cup boiling water**
* Be sure not to substitute in dutch process cocoa here. Natural cocoa is acidic, and you need something acidic to react with the baking soda in this recipe. Dutch process cocoa has been neutralized and hence won't work with the baking soda to make the cake rise. (You would, hence, pair dutch process cocoa with baking powder, a self-contained rising agent.)
** This will help bring out the flavor of the cocoa. I recommend boiling more than enough water first and then measuring; otherwise you could lose water to evaporation.
Method

If you haven't already, you should check out my basic cake baking method and my list of cake baking tips! Every cake batter recipe I post follows that same method, and my cake baking tips are great to memorize for whenever you're preparing a cake batter such as this.
Preheat the oven to 325°F.
In a medium-sized bowl, sift together the flour, baking soda, salt, and cocoa powder.
In a larger bowl, beat together the oil and sugar. Then, beat in the eggs one at a time.
Gradually add the dry mixture to the oil-sugar-egg mixture.
Incorporate the vanilla.
Finish by stirring in the boiling water.
Baking time. Fill your liners just over halfway full and bake for 17 to 22 minutes. Use the toothpick test for perfect doneness.
Marshmallow Cream Frosting
Makes enough for 14 cupcakes or for half of a standard double-layer 9″ round cake.
Ingredients
3/4 cup marshmallow creme (a.k.a. fluff)
1/2 cup butter
2 1/2 – 3 cups powdered sugar
1/2 – 1 TB milk
Method
Beat together the marshmallow creme and butter.
Gradually add half of the powdered sugar, then the milk, and then the rest of the powdered sugar until you reach a smooth, yet stiff consistency.