Here are three fun and easy recipes to help you create gourmet-style, chocolate dipped cupcakes complete with decadent garnishes—much more than the typical chocolate-dipped cupcake! I did these for a baking segment on KSL's Studio 5 and had a ton of fun with them. Stay tuned for the vid!
Basic Colored Chocolate Shell
A delicious vanilla cupcake with vanilla buttercream frosting, dipped in colored candy melts and garnished with rainbow sprinkles for a colorful take on the traditional vanilla cupcake.
You'll need…
Nutty Buddy Inspired Cupcake
A delicious vanilla cupcake with vanilla buttercream frosting, dipped in melted chocolate and then rolled in crushed peanuts for a delicious nutty buddy inspired cupcake.
You'll need…
a double batch of vanilla buttercream frosting
16 oz. of semisweet chocolate chips
2 tablespoons of coconut oil
1 cup of finely chopped peanuts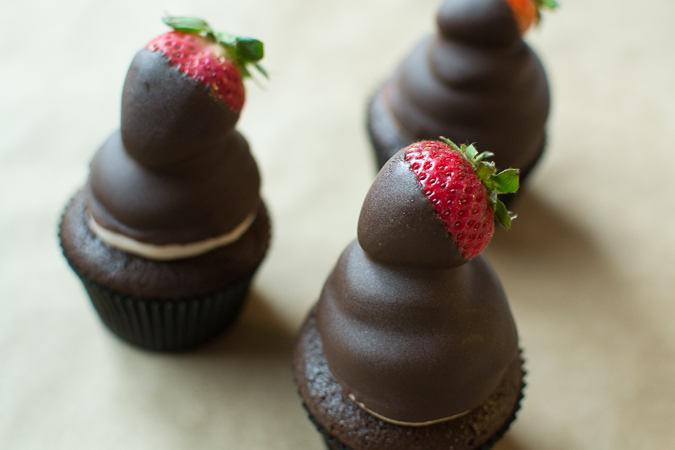 Chocolate Dipped Strawberry Cupcake
A delicious chocolate cupcake with strawberry cream cheese frosting, dipped in melted chocolate and then topped with a chocolate covered strawberry, for a cupcake inspired by the sophisticated chocolate covered strawberry.
You'll need…
—
Assembly
1. First, prepare your cupcakes by frosting them with plenty of frosting. To do this, use a piping bag fitted with a large round tip. Start in the middle and then create a large circle around the perimeter. Continue upward in tighter and tighter circles to create a large, tiered mound of frosting on top of the cupcake.
2. Let your cupcakes sit in the freezer for at least 20 minutes. Meanwhile, prepare your chocolate by melting the candy melts or chips and oil in the microwave at 30 second increments at 50% power until fully melted.
3. Remove the cupcakes from the freezer, and one at a time, hold the frosted cupcake upside down and dip in the melted chocolate, leaving a small bit of frosting at the base of the cupcake undipped. Then, pull the cupcake straight up and let the excess coating drip off. Then, turn over quickly.
4. This step depends on which type of cupcake you are making:
For the basic colored chocolate shell cupcakes, garnish with rainbow sprinkles as desired.
For the nutty buddy inspired cupcakes, immediately roll the chocolate dipped cupcake onto a plate of crushed peanuts until fully coated.
For the chocolate covered strawberry cupcakes, immediately dip a small strawberry into the melted chocolate and set it on top of the dipped cupcake.
5. Let the cupcakes cool completely until the chocolate has set.
Happy baking!