Mmm, raspberry cupcakes. I have to say, this cake in particular looks gorgeous when you pull it out of the oven. Observe…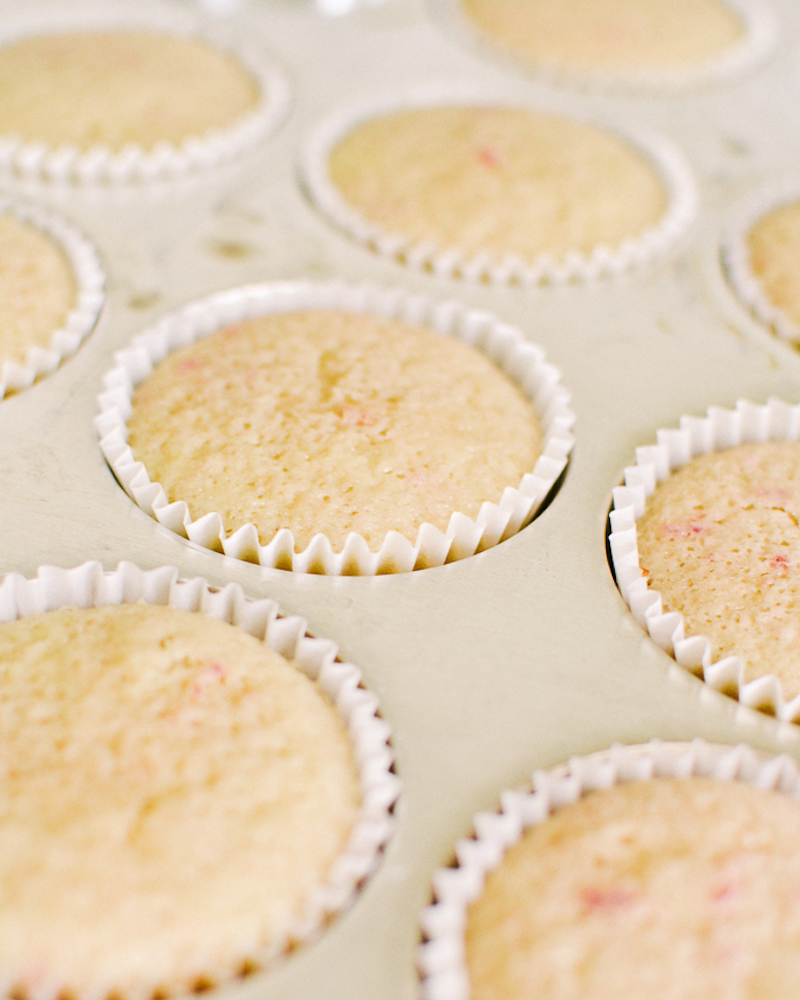 You will notice that they don't appear to have very many raspberries. That's because the raspberries sink a little bit toward the bottom in the baking process. But I think this works out wonderfully—that way, when you're getting toward the bottom of the cupcake, having eaten up all of the frosting, you have some extra raspberries to make up for it :)
One other thing to note: These cupcakes won't rise as fully as typical cupcakes do. So remember to fill your pan or cupcake liners a little more!
Raspberry Cake or Cupcakes
Makes about 12 cupcakes or enough batter for one 9″ round cake pan. (Note that a typical cake involves doubling the recipe and baking two pans' worth of batter.) You might have a little extra batter though, in which case you should either freeze it or make extra cupcakes.
Ingredients
1 2/3 cups cake flour
1 tsp baking powder
1/2 tsp salt
1/2 cup butter, cut into pieces
1 cup sugar
2 eggs
3/4 cup milk
2 tsp vanilla
1 (heaping) cup finely chopped raspberries*
*Use a sharp knife to chop the raspberries; you don't want tons of juice.
Method
If you haven't already, you should check out my basic cake baking method and my list of cake baking tips! Every cake batter recipe I post follows that same method, and my cake baking tips are great tips to memorize for whenever you're preparing a cake batter such as this.
Preheat the oven to 350°F.
In a medium-sized bowl, sift together the flour, baking powder, and salt.
In a larger bowl, beat the butter at a high speed, and gradually beat in the sugar. Then, beat in the eggs one at a time.
Now you will gradually be adding the dry mixture and the milk to the butter-sugar-egg mixture. To do this, alternate mixing in some of the dry mixture, followed by some milk, followed by some dry mixture… You get the picture. Do that until you've incorporated the dry mixture and the milk completely. Just don't over-mix here.
Finish by incorporating the vanilla and raspberries.
Baking time! For cupcakes, fill your liners 3/4 full and bake for 17 to 22 minutes. For a cake, fill a greased 9-inch round cake pan about 3/4 full with batter and bake for 30 to 40 minutes. Use the toothpick test to check for doneness.