This recipe uses Teavana's Dosha Chai Rooibos tea to give your cake or cupcakes a distinctive and delicious Chai flavor.
…for ABC4 viewers who are checking out my blog after seeing my TV appearance on Monday: Welcome! Please make yourself at home.
Alright. Recipe time.
White Chocolate Chai Cupcakes
Makes 12 cupcakes.
Ingredients
1 2/3 cups flour
1 tsp baking powder
1/2 tsp salt
1/2 cup butter, cut into pieces
1 cup sugar
2 egg whites
1/2 cup milk
1 tsp vanilla
1/2 cup white chocolate chips, melted*
1–2 TB ground Chai tea (I recommend Teavana's Dosha Chai Rooibos—it's herbal!)**
*You should melt the white chocolate chips just before adding them to the batter, as they will cool fairly quickly. Also be sure that when you are melting the chocolate that you do so very gradually, such as at 20-second increments at reduced power in the microwave.
**A mortar and pestle is your best friend here.
Method
Preheat the oven to 350°F.
In a medium-sized bowl, sift together the flour, baking powder, and salt.
In a larger bowl, beat the butter at a high speed, and gradually beat in the sugar. Then, slowly beat in the egg whites.
Now you will gradually be adding the dry mixture and the milk to the butter-sugar-egg mixture. To do this, alternate mixing in some of the dry mixture, followed by some milk, followed by some dry mixture… You get the picture. Do that until you've incorporated the dry mixture and the milk completely. Just don't over-mix here.
Finish by incorporating the vanilla, white chocolate, and Chai.
If you're making cupcakes, pour the batter into greased or lined cupcake wells until each is about 2/3 full and bake for 17 to 22 minutes. If you're baking a cake, pour the batter into a greased 9″ round cake pan and bake for 30 to 40 minutes. Rely on the toothpick test here for a perfect cooking time— a toothpick inserted into the middle should come out with some crumbs on it.
Frost with my two-ingredient brown butter frosting for a match made in heaven!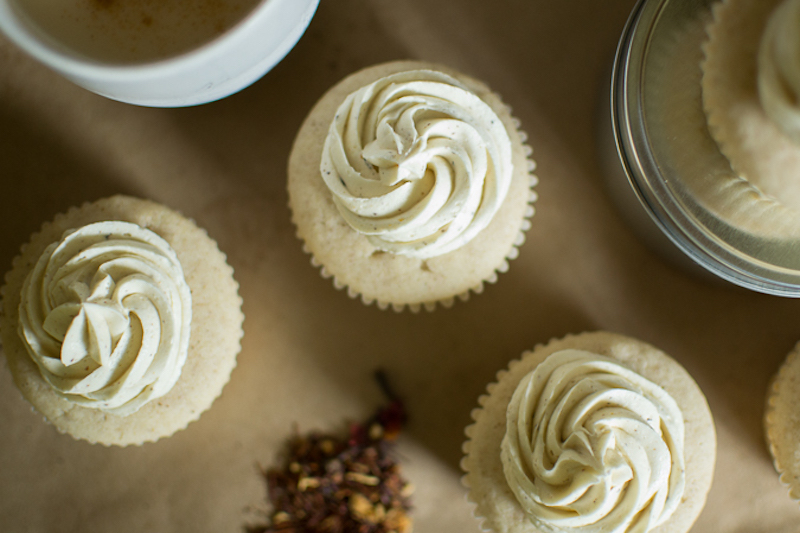 For those of you who might not have loose Chai tea laying around, check out this slight variation that uses a mix of various "Chai spices" instead!
UPDATE: I've posted the Good Things Utah segment where I bake these cupcakes, and you can now view it here.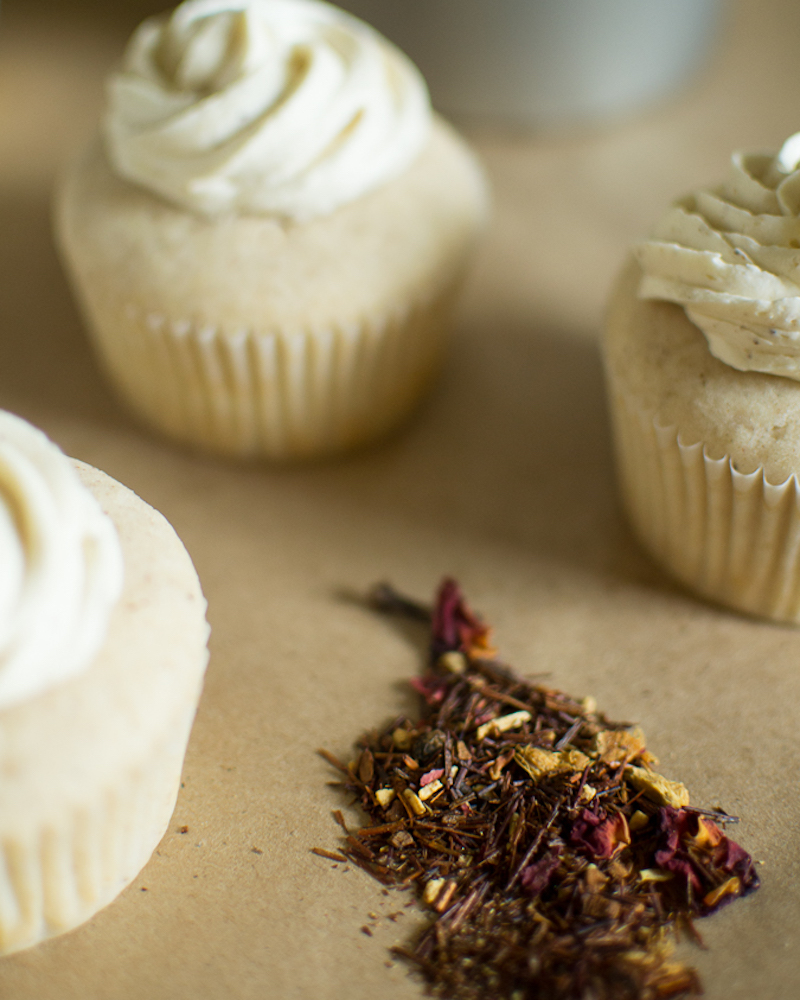 Happy baking :)
Love, Maurine