The vegan chocolate cake recipe is finally here! Woohoo! Guys…this cake is wonderful. I'm not kidding when I tell you that you won't even be able to tell it's vegan. I even watched my brother eat it and say it was dang tasty before I told him the dairy-free secret.
It also looks beautiful when you take it out of the oven; the cake is just this rich, dark, dark brown color. So. Long story short…this cake is bound to be a hit at parties. It even makes for a great conversation piece.Oh, and this pairs perfectly with my vegan chocolate frosting.Note: I found that these don't dome up much—they'll be either flat or slightly dipped in the middle. But I honestly think this makes them all the more stunning when you frost them! Just lettin' ya know.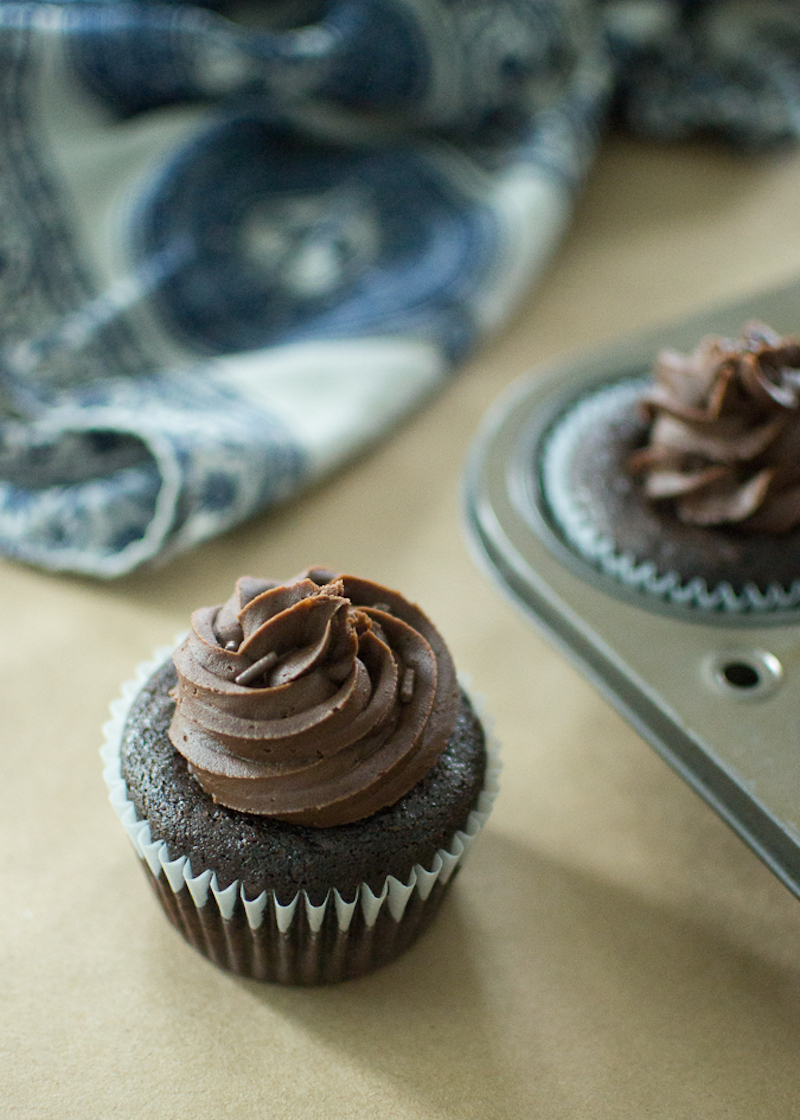 Vegan Chocolate Cake or Cupcakes
Makes 10–12 cupcakes or just enough batter for one 9″ round cake pan. I would recommend multiplying the recipe by 2.5 though (so, just over doubling the recipe) to make sure you have enough batter for a full-sized cake.
Ingredients
1 2/3 cups all-purpose flour
1 tsp baking soda
1/2 tsp salt
2/3 cup cocoa powder
1/2 cup + 1 TB vegetable or coconut oil
1 cup sugar (bonus points if it's raw)
1/2 cup soy milk
1 tsp apple cider vinegar
1 tsp vanilla
3/4 c dark chocolate chips (check to make sure they contain no milk)*
* Totally optional, but dang, these make it wonderfully chocolatey.
Method
If you haven't already, you should check out my basic cake baking method and my list of cake baking tips! Every cake batter recipe I post follows that same method, and my cake baking tips are great to memorize for whenever you're preparing a cake batter such as this.
Preheat the oven to 350°F.
Before touching your other ingredients, combine the soy milk and vinegar in a small bowl. This helps bring out a richer flavor in the soy milk (according to Vegan Baking, at least.)
In a medium-sized bowl, sift together the flour, baking powder, salt, and cocoa powder.
In a larger bowl, beat together the oil and sugar.
Now you will gradually be adding the dry mixture and soy milk mixture to the oil-sugar mixture. To do this, alternate mixing in some of the dry mixture, followed by some soy milk, followed by some dry mixture… You get the picture. Do that until you've incorporated the dry mixture and soy milk mixture completely. Just don't over-mix here.
Finish by incorporating the vanilla (and chocolate chips, if you're doing that).
Baking time. For cupcakes, fill your liners 2/3 full and bake for 17 to 22 minutes. For a cake, fill a greased 9-inch round cake pan about 2/3 full with batter and bake for 30 to 40 minutes. Use the toothpick test for perfect doneness.