…Also known as "the chocolate-covered strawberry cupcake."
I should probably start off by saying that no, this is not an official cupcake offered at Café Zupas—which, by the way, is a delicious soup, sandwich, salad, etc. restaurant out here in Utah and a couple other states. But I felt inspired by Café Zupas' famous chocolate covered strawberries to create a chocolate-covered strawberry cupcake!
Since, I mean, their chocolate-covered strawberries are where it's at.
Anyhow, this is why I hereby dub this cupcake the Café Zupas cupcake.
The formula…
chocolate cake + strawberry frosting + dipping chocolate + a small strawberry
It's essentially a chocolate cupcake topped with strawberry frosting, with the frosting then dipped in melted chocolate and topped almost simultaneously with a strawberry that was also just dipped in chocolate.
Whew. That was kinda hard to explain. It might look intimidating, but I promise that you can totally do this. Including the dipping-in-chocolate part!
So, I'm going to break it down for you here. First, the cupcake's base. I've already posted this chocolate cake recipe in this post, but I'm writing it out again for you here:
Basic Chocolate Cake Batter
Makes about 16 cupcakes.
Ingredients
1 2/3 cups all-purpose flour*
3/4 tsp baking soda (err on the side of not enough)
1/2 tsp salt
2/3 cup cocoa powder
1/2 cup vegetable oil, plus 1 TB for added moistness
1 cup sugar
2 eggs
3/4 cup sour cream
1 tsp vanilla
* I tend to use cake flour in my cupcakes, but chocolate is an exception. You generally want a slightly denser cake with chocolate, and cake flour will make your cake less dense.
Method
If you haven't already, you should check out my basic cake baking method and my list of cake baking tips! Every cake batter recipe I post follows that same method, and my cake baking tips are great to memorize for whenever you're preparing a cake batter such as this.
Preheat the oven to 350°F.
In a medium-sized bowl, sift together the flour, baking powder, salt, and cocoa powder.
In a larger bowl, beat together the oil and sugar. Then, beat in the eggs one at a time.
Now you will gradually be adding the dry mixture and the sour cream to the oil-sugar-egg mixture. To do this, alternate mixing in some of the dry mixture, followed by some sour cream, followed by some dry mixture… You get the picture. Do that until you've incorporated the dry mixture and the sour cream completely. Just don't over-mix here.
Finish by incorporating the vanilla.
Baking time. For cupcakes, fill your liners 2/3 full and bake for 17 to 22 minutes. Since this is a thick batter, do be sure to stir a little once the batter is in the cupcake wells so that the cake will rise more evenly! Use the toothpick test for perfect doneness.
Next, the strawberry frosting, which is actually a cream cheese frosting:
Strawberry Cream Cheese Frosting
Makes enough for about 18 cupcakes. (So you can freeze the extra!)
Ingredients
1/2 cup butter, cut into pieces
6 oz. strawberry cream cheese
2–3 cups powdered sugar
1–2 tsp vanilla
a dash of salt
Method
Cream together the butter and cream cheese.
Gradually beat in the powdered sugar. The more you add, the stiffer your frosting will be. (You'll want really stiff frosting here!)
Finish by stirring in the vanilla and salt.
Apply frosting to completely cooled cupcakes using a round tip.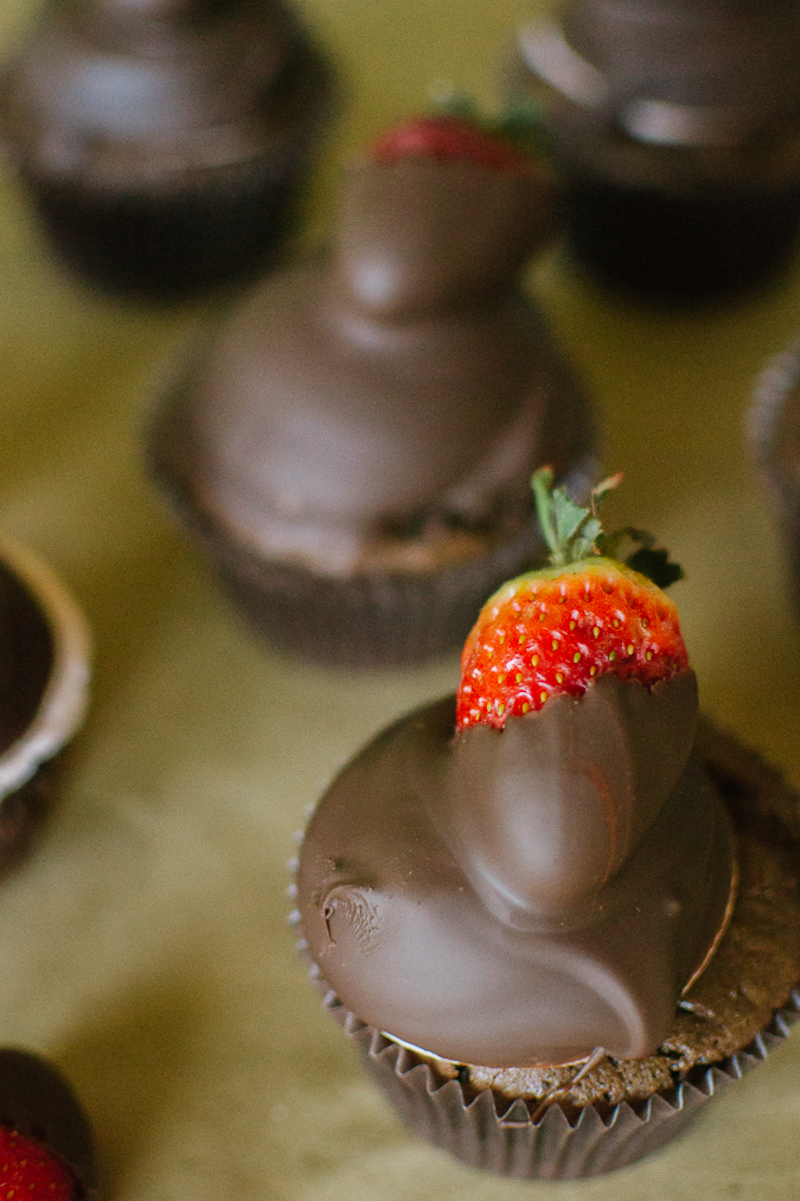 Ready to work with melted chocolate? Heck yeah.
First: Transfer your frosted cupcakes to the freezer. (They should spend at least 20 minutes in there prior to dipping time.)
…And then get out these two things:
one bag semisweet chocolate chips
small strawberries that have been patted dry
How to Dip Frosting into Chocolate (and Then Garnish with a Strawberry)
I've included some helpful photos for ya below. (Thank you, Tamazine, my sweet roommate!)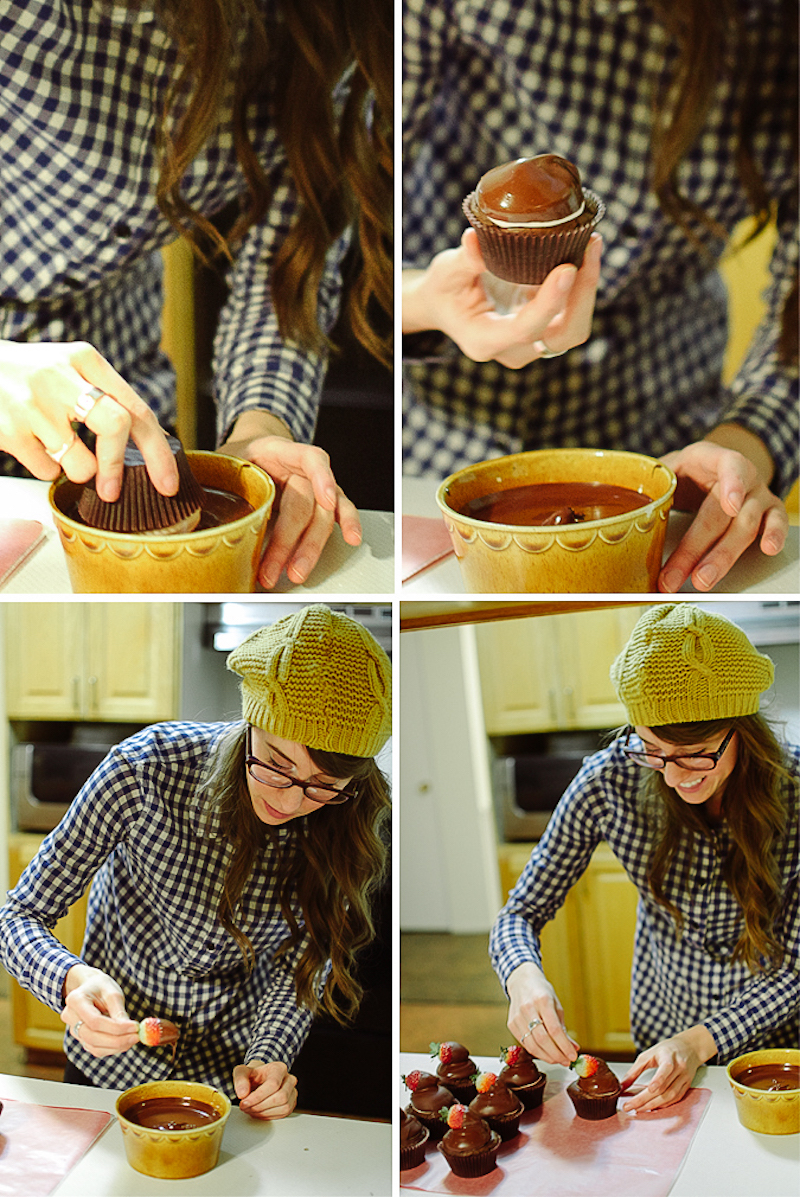 Fill a saucepan with a couple of inches' worth of water and bring it to a boil.
Pour the chocolate chips into a heat-proof bowl that can sit comfortably on top of the saucepan and…set the bowl on top of the saucepan. Lo! A makeshift double boiler.
Stir the chocolate until it is completely melted.
Transfer the melted chocolate to a container that will work well for dipping.
Get your cupcakes out of the freezer.
Pick up one cupcake, hold it firmly at the base, turn it over, and dip it into the chocolate until the chocolate just barely covers all of the frosting. Gently pull the cupcake back up, twisting it to catch any dripping chocolate, and set it back down to set.
Quick! Grab a small strawberry and dip it into the chocolate as well. Then set the strawberry on top of the cupcake you just dipped. Hold it there for a few seconds until you're sure the cupcake and strawberry will set together.
Repeat until you have a beautiful array of chocolate-dipped cupcakes.
I recommend dipping any extra strawberries into the chocolate so that you can use them later to decorate that tray that you'll be serving them on.
I hope you've enjoyed this little tutorial! This has been one of my favorite cupcakes to create. Fo sho.
Be sure to show Café Zupas some love now 🙂 Did you know that they cater??
Love, Maurine