Over the weekend I did some baking experimentation by replacing some of the flour in my old vanilla cupcake recipe with finely ground pistachios (using the method I describe here). The result was a delicious and lightly pistachio-flavored cupcake! I topped it off with some white chocolate cream cheese frosting. The taste? Pure heaven. See below for both the cake and frosting recipes. I promise they're fantastic!
Pistachio Cake or Cupcakes
Makes 12 cupcakes or enough batter for one 9″ round cake pan. Double the recipe if you'd like a full-sized cake.
Ingredients
1 1/4 cups cake flour
1/2 cup finely ground shelled pistachios
1 tsp baking powder
1/2 tsp salt
1/2 cup butter, cut into pieces
1 cup sugar
2 eggs
3/4 cup milk
1 1/2 tsp vanilla
Method
Firstly, in case you haven't, you should check out my basic cake baking method and my list of cake baking tips! Every cake batter recipe I post follows that same method, and my cake baking tips are great tips to memorize for whenever you're preparing a cake batter such as this.
Preheat the oven to 350°F.
If you haven't already, go ahead and prepare your "pistachio meal." To do this, shell a bunch of pistachios (if you didn't buy them pre-shelled) until you get about 1/2 cup's worth of pistachios. (By the way, it's okay if your pistachios are roasted and salted. That's what I used.) Run the pistachios through the food processor until you get tiny crumbs. It's okay if you still have some bigger pistachio crumbs in there.
In a medium-sized bowl, sift together the flour, ground pistachios, baking powder, and salt.
In a larger bowl, beat the butter at a high speed, and gradually beat in the sugar. Then, beat in the eggs one at a time.
Now you will gradually be adding the dry mixture and the milk to the butter-sugar-egg mixture. To do this, alternate mixing in some of the dry mixture, followed by some milk, followed by some dry mixture… You get the picture. Do that until you've incorporated the dry mixture and the milk completely. Just don't over-mix here.
Finish by incorporating the vanilla.
If you're making cupcakes, pour the batter into 12 greased or lined cupcake wells and bake for 16 to 22 minutes. If you're baking a cake, pour the batter into a greased 9″ round cake pan and bake for 30 to 40 minutes. Rely on the toothpick test here for a perfect cooking time—a toothpick inserted into the middle should come out with some crumbs on it.
White Chocolate Cream Cheese Frosting
Makes enough for 24 cupcakes or for a standard double-layer 9″ round cake.
Ingredients
1/2 cup butter, cut into pieces
4 oz. light cream cheese (this can be cold instead of room temp)
2–3 cups powdered sugar
1 16-oz. bag white chocolate chips
1–2 tsp vanilla
Method
Cream together the butter and cream cheese. Usually I say that both the butter and cream cheese should be room temp when you use them, but I decided to use the cream cheese while it was still cold here because I will be mixing in warm melted chocolate later. The varying temperatures of the ingredients kind of balance each other out this way.
Gradually beat in the powdered sugar. The more you add, the stiffer your frosting will be. Keep in mind that the chocolate you will soon be adding will also make the frosting stiffer (once it cools), so you should be fine with just 2 cups of powdered sugar here.
Melt the white chocolate chips in the microwave in a large bowl. Do this gradually—go in 30-second increments at a power of 60 percent and stir after every 30 seconds.
Pour the melted chocolate into the butter-cream cheese-sugar mixture. Beat these ingredients together well.
Finish by stirring in the vanilla.
Apply frosting to completely cooled cupcakes or cake.
Note: A cake with this frosting should be refrigerated since the frosting contains cream cheese.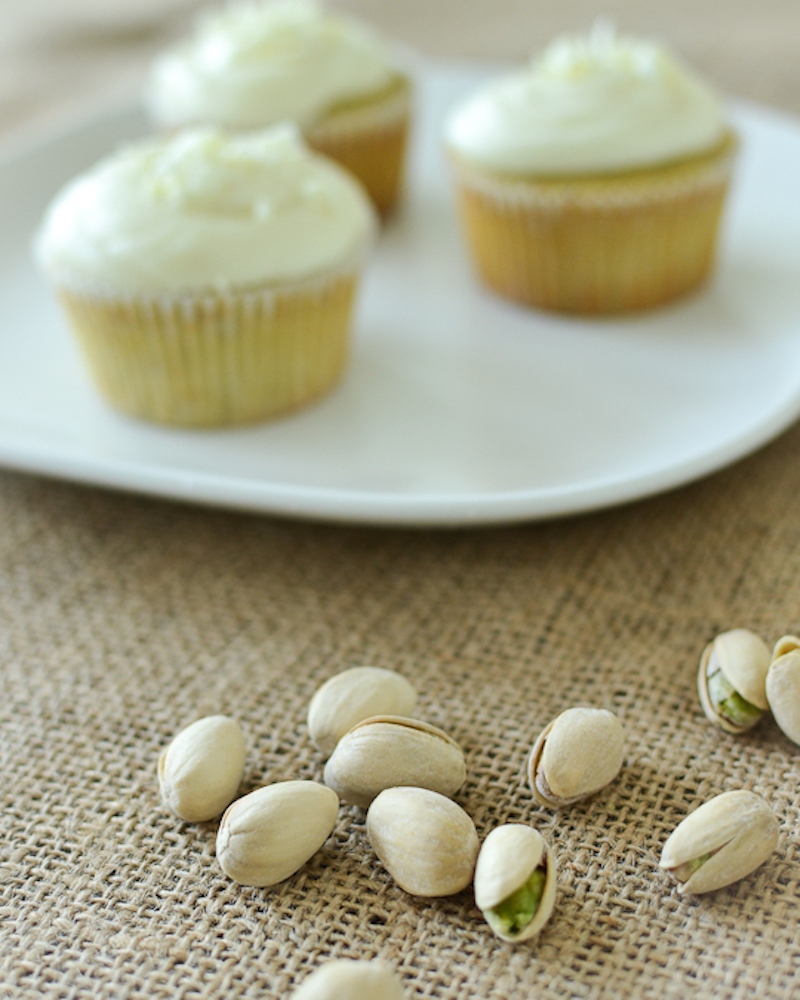 Enjoy your delicious cake! It's kinda fantastic, yeah?