This snack is so easy that you are going to cry of joy. Plus cheese chips less messy to eat than handfuls of shredded cheese.
Also, don't question the fact that the pan I used was so dark. It was my only option!
Parmesan Chips
Heck yeah. This recipe makes as many chips as you want it to.
Ingredient
grated Parmesan cheese (I like to add in some Romano and Asiago)
Method
Preheat the oven to 350°F.
Grease a cookie sheet very lightly.
Drop a large spoonful of cheese onto the cookie sheet, and pat down the cheese to make a circle. (I suppose if you're feeling creative you can create shapes.) Your circles can be any size, really. Just make sure they're all about the same thickness and that they're relatively thin.
Repeat step 3 until you've prepare the desired amount of chips. Just be sure to keep 2 to 4 inches between your chips depending on how big they are.
Feel free to sprinkle some seasonings over your chips at this point, if you like.
Bake in the oven for 2 1/2 to 5 minutes. These things burn easily, so keep an eye on 'em.
Note: These chips are still pliable right when you take them out of the oven. What does this mean? Why, it means that you can drape a larger chip over a small bowl, for example, to make a sort of bowl-shaped chip. (Mind-blowing, am I right?)
Another note: Other cheeses will work, but I'd stick to the harder ones. I'm all for experimentation though, so…you can just pretend I didn't say that.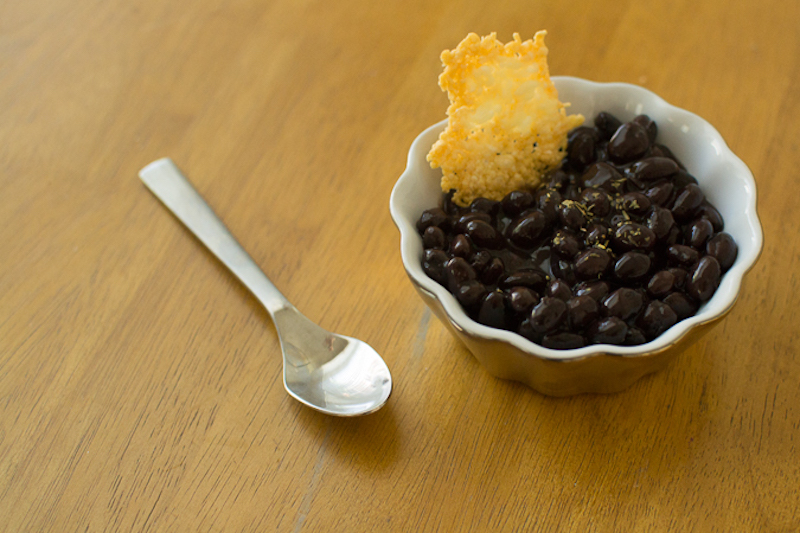 I had mine with some black beans, but I think they would have been fantastic with an Italian soup or some chili. Next time…