One of my favorite things to do for a person's birthday is to make them a custom cake flavor based on what their favorite sweets are. I recently asked a friend what her favorites were, and since she said "strawberry, chocolate, vanilla, and red velvet," I decided to take the first three and make Neapolitan cupcakes!
These are pretty simple to make, actually. I just made a half yield of my vanilla and chocolate cake recipes and then made strawberry frosting using strawberry cream cheese instead of regular cream cheese. My favorite part about this is how the frosting turned out—it tasted almost like ice cream!
So. Just keep in mind that you will be preparing a half yield of both chocolate and vanilla cake batter here to make enough batter for a total of 12 cupcakes. I have already cut the measurements in half for each recipe for you, so you should follow along with the ingredient amounts you see here. The directions for what to do with the two kinds of batter will follow the two recipes.

Vanilla Cake Batter
Makes enough for 6 full cupcakes or "half" of 12 cupcakes.
Ingredients
2/3 cup cake flour
1/2 tsp baking powder
1/4 tsp salt
1/4 cup butter, cut into pieces
1/2 cup sugar
1 egg
3/8 cup milk
1 tsp vanilla
Method
If you haven't already, you should check out my basic cake baking method and my list of cake baking tips! Every cake batter recipe I post follows that same method, and my cake baking tips are great tips to memorize for whenever you're preparing a cake batter such as this.

 Preheat the oven to 350°F.
In a medium-sized bowl, sift together the flour, baking powder, and salt.
In a larger bowl, beat the butter at a high speed, and gradually beat in the sugar. Then, beat in the eggs one at a time.
Now you will gradually be adding the dry mixture and the milk to the butter-sugar-egg mixture. To do this, alternate mixing in some of the dry mixture, followed by some milk, followed by some dry mixture… You get the picture. Do that until you've incorporated the dry mixture and the milk completely. Just don't over-mix here.
Finish by incorporating the vanilla.
Time to make the chocolate batter!
Chocolate Cake Batter
Makes enough for 6 full cupcakes or "half" of 12 cupcakes.
Ingredients
2/3 cup cake flour
1/2 tsp baking powder
1/4 tsp salt
1/3 cup cocoa powder
1/2 cup vegetable oil
1/2 cup sugar
1 egg
3/8 cup milk
1 tsp vanilla
Method
Apply the same method here that you did when you made the vanilla cake batter. The only real differences here are that you are also using cocoa powder, and you are using oil instead of butter. But the same method still applies:
Sift the dry ingredients (except for sugar.)
Combine the wet ingredients—in this case oil, sugar, and eggs—in a separate bowl.
Add the dry ingredients to the wet ingredients, alternating with the milk.
Stir in the vanilla.
How to Combine the Cake Batter for a Vanilla-Chocolate Cupcake
Fact: I took this picture by myself by setting up my camera on a tripod and holding the remote in ma mouf. Look at that sweet, sweet precision.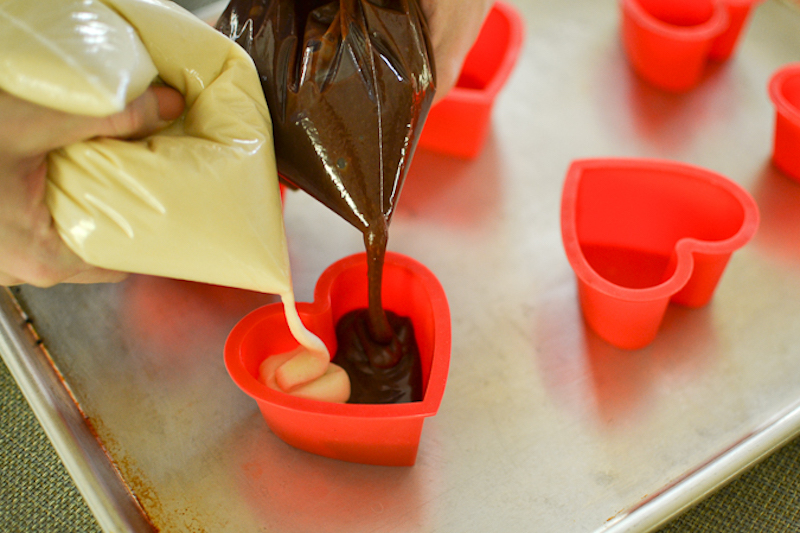 Fill a plastic baggy with the vanilla cake batter. Do the same with the chocolate in a separate bag.
Snip off a corner of each of these bags. Now you have two makeshift cake batter dispensers.
This is where you need a little coordination. Hold one baggy in each hand as you stand over a muffin pan lined with cupcake liners (or in this case, a sheet with silicone molds on it). For each lined cupcake well, carefully squeeze some of the vanilla and chocolate batter into the liner using both hands, doing your best to get equal amounts of each kind of batter into the well. The batters should fill the liner side-by-side. Stop when the liner is about 2/3 full.
Finished with that? Awesome. Baking time. Bake the cupcakes at 350°F for 17 to 22 minutes, until a toothpick inserted in the middle of a cupcake comes out with a few crumbs on it.
Ready to frost?
Strawberry Cream Cheese Frosting
Makes enough for about 18 cupcakes. (So you can freeze the extra!)
Ingredients
1/2 cup butter, cut into pieces
6 oz. strawberry cream cheese
2–3 cups powdered sugar
1–2 tsp vanilla
a dash of salt
Method
Cream together the butter and cream cheese.
Gradually beat in the powdered sugar. The more you add, the stiffer your frosting will be.
Finish by stirring in the vanilla and salt.
Apply frosting to completely cooled cupcakes.
And one more thing. A fun fact. Have you ever wondered where "Neapolitan" comes from when it refers to a combination of chocolate, vanilla, and strawberry ice cream? Well, firstly, the word "Neapolitan" refers to the city of Naples, Italy. Apparently the classic combination of flavors is inspired by the Spumoni that Neapolitan immigrants were introducing to the United States in the 1870s. Spumoni, however, is a combination of pistachio, cherry, and either chocolate or vanilla ice cream. Chocolate, vanilla, and strawberry likely became the standard for "Neapolitan" because they were the most popular flavors in the United States at the time. (Here's the Wiki page I just summarized in case you're interested!)