So…I had a recipe I tested this weekend not work out. The solution? Teach you a nice frosting technique instead! Ignore the sub-par cake part, okay?
Ever wondered how people frost cupcakes so that they have that nifty swirl effect? Well, a friend of mine who used to work at a bakery taught me how. One disclaimer—I apologize that I don't have tutorial photos for this one! This technique, however, is really simple, so you probably don't need them anyway. Phew.
HOW TO FROST CUPCAKES WITH TWO-TONED FROSTING
Prepare the two types of frosting you plan on using. I wanted chocolate with white edges, so I prepared a lot of chocolate frosting and a little cream cheese frosting.
Fill a star-tipped pastry bag with your edging frosting. For me, this was the cream cheese frosting. And I'm recommending a star tip here because it showcases the two-toned effect best.
Squeeze all of this frosting out through the tip of the pastry bag. Since the last bit of frosting likes to stay in the tip, you'll probably have to take the tip out and get the rest of the edging frosting out with your finger.
Fill your pastry bag for reals with your main-colored frosting. What you've just done is gotten the edging frosting stuck to the edges of the pastry bag and then filled the bag with your main frosting. This is the secret to the two-toned frosting effect.
Frost like usual. Your frosting will magically be two different colors. Pretty neat, eh?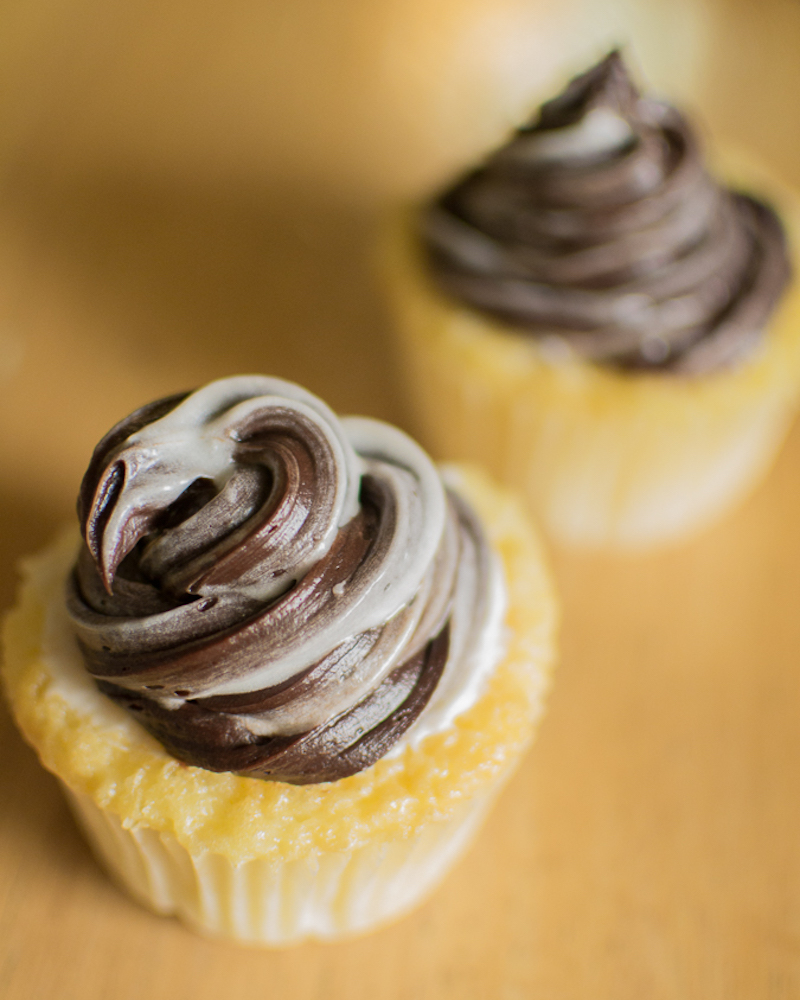 Note: Some people simply fill a pastry bag with one type of frosting on each side. This is an option as well, but I find the above technique easier!
Alright, I'm off. Have a splendid day!
Love, Maurine