*As an Amazon Associate, I earn from qualifying purchases. This means that if you click through any Amazon link (starred like so*) in this article and happen to purchase anything on Amazon, I get a small commission. This doesn't cost you anything—just an FYI!
No, you're not crazy. Wanting to send frosted cupcakes in the mail is a worthy endeavor. And some cupcake places actually do it regularly!
I was recently the lucky recipient of a dozen Georgetown cupcakes via mail (thank you, Cassie!) and thought I might satisfy your curiosity on how Georgetown Cupcake accomplishes such a feat. Well, more than that, I want to help teach you how you can send cupcakes in the mail. I think it's such a great gift idea because 1) it's homemade, and 2) it's a nice surprise because it's not the first thing you expect to receive in the mail. Plus, all of the care taken in packaging it shows some extra love.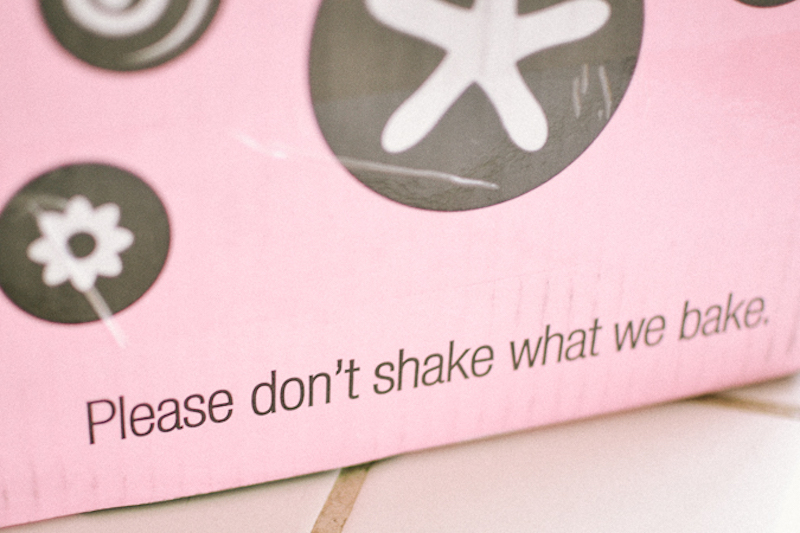 So here are the supplies needed to send a frosted cupcake (or cupcakes) in the mail. You will see occasional linking that will lead you to some purchasing options. And do know that some of your supply purchasing options are definitely more feasible if you plan on doing this more often, or if you know of other ways you will use these supplies:
WHAT TO DO.
Cut the lids off of your plastic cupcake containers and

discard

recycle them. You are using one of the bottom parts to be your "lid" because it's better for each cupcake—frosting and all—to have its own spot. Know what I mean?
Place your cupcakes into a container.  Bonus points for chilling the cupcakes in the freezer first.
Place a candy stick through each cupcake, making sure each stick's end will touch the bottom and top of the finished container. Trim the sticks to be shorter if needed. (This keeps your cupcakes from bouncing up and down during the shipping process.)
Set the other container bottom on top and tape your makeshift container together with strong tape.
Put the cupcake container into a box so that it fits snugly. You may need to add extra packing material to make sure the container doesn't slide around in the box.
Set your ice packs on top of this box. Tape them to the box for added measure, if you like.
Put the box and ice packs in a thermal bag or wrap them in bubble insulation.
Set this in the mailing box, adding extra packing materials for padding if needed.
Label and decorate your box and send it with overnight shipping. This could get pricey, and you should expect to spend at least $20 to $30. (For reference, a flat rate 1-day USPS box is $45.) The costs depends on how much you send and what your materials weigh, of course.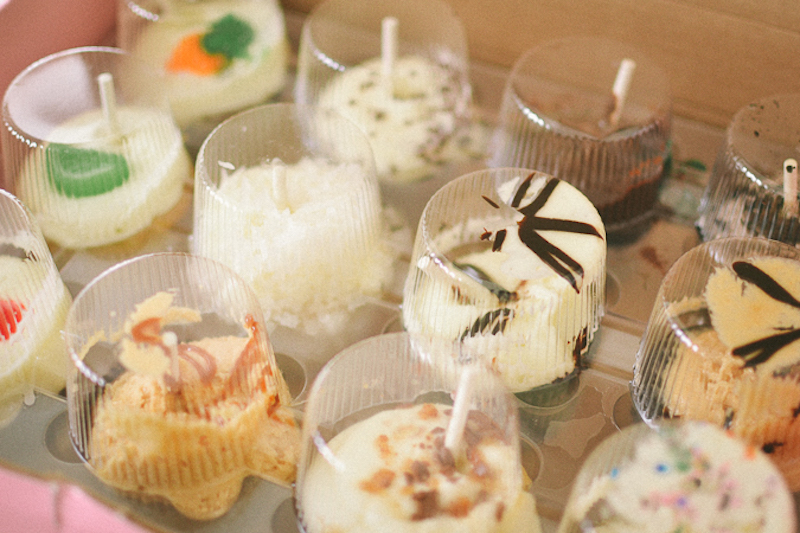 This is what my cupcakes from Georgetown Cupcake looked like when I got them in the mail. Note: My case was unique in that the cupcakes didn't reach me the next day like they were supposed to. These ended up traveling for about three days…not sure why. Anyhow, they probably would have been just about perfect had they come at the scheduled time!
Told ya it needs to be overnight shipping.
Oh, and the cupcakes were delicious.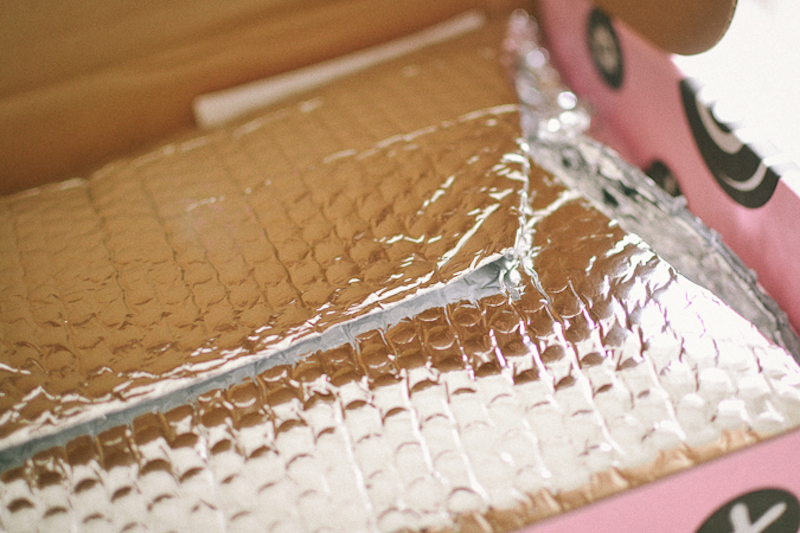 This is what the box looked like when I first opened it. As you can see, the insulated bag is wrapped around the entire cupcake container/box/ice pack contraption. Pretty nifty, eh?
I hope I didn't accidentally write "insulted" instead of "insulated" anywhere.
Good luck, and happy cupcake giving.
Love, Maurine
PS. Have you ever tried baking "mini cakes" in jars? It's another option that might make sending your baked goods a little easier. Find how in my blog post about it.