In this post I wanted to establish kind of a "create-your-own granola recipe." It's a basic chunky granola recipe, with guidance on how to customize it to your liking. So basically you could make ten different kinds of granola with this one recipe! You could make cranberry coconut, pumpkin cinnamon pecan, blueberry chia, coconut mango, double chocolate…so many possibilities! No matter what you decide to make, I promise you'll end up with nice, chunky, kinda-healthy granola at the end 😉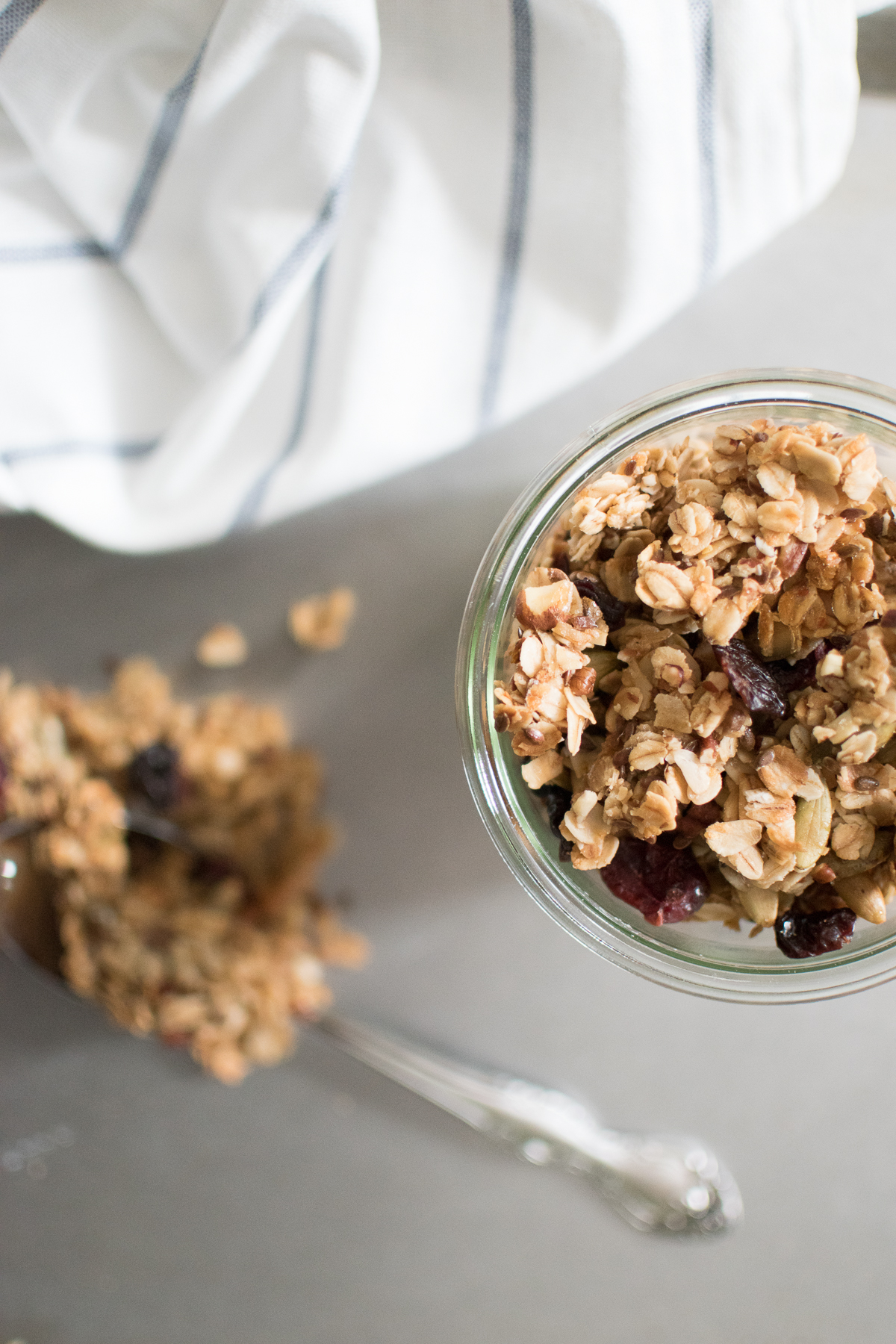 Annnyway, to make your own granola with this recipe, start with the key ingredients, and then add any additional ingredients from the optional ingredients list if desired. You could add a few optional ingredients or none at all—your choice!
Here's a brief look at the granola making process before I share the recipe below. This recipe couldn't be easier—I promise!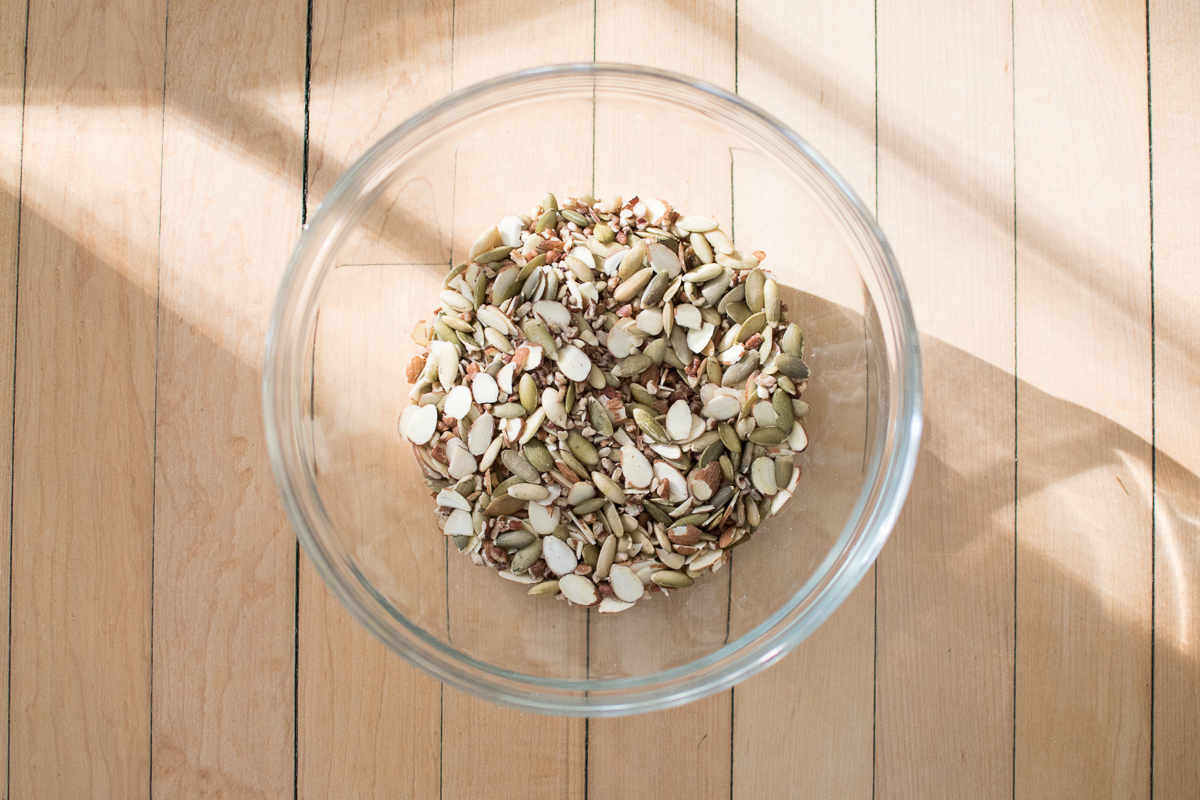 This time around, I used 1/2 cup sliced almonds, 1/2 cup chopped pecans, and 1/2 cup pumpkin seeds for my 1 1/2 cups "nuts and/or seeds" (see recipe to know what I'm talking about). I also added 1/4 cup flaxseed.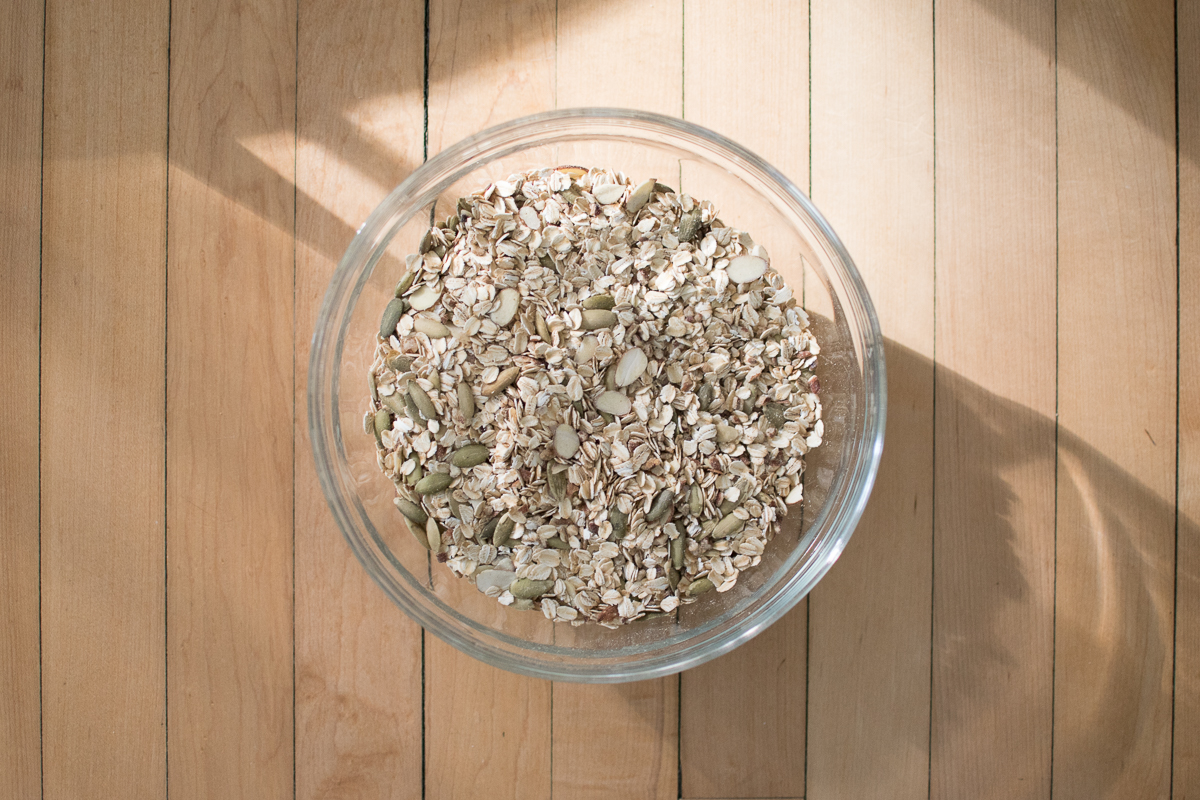 Here are the dry ingredients with the oats added! I hope you've been appreciating the artsy lighting I was going for haha.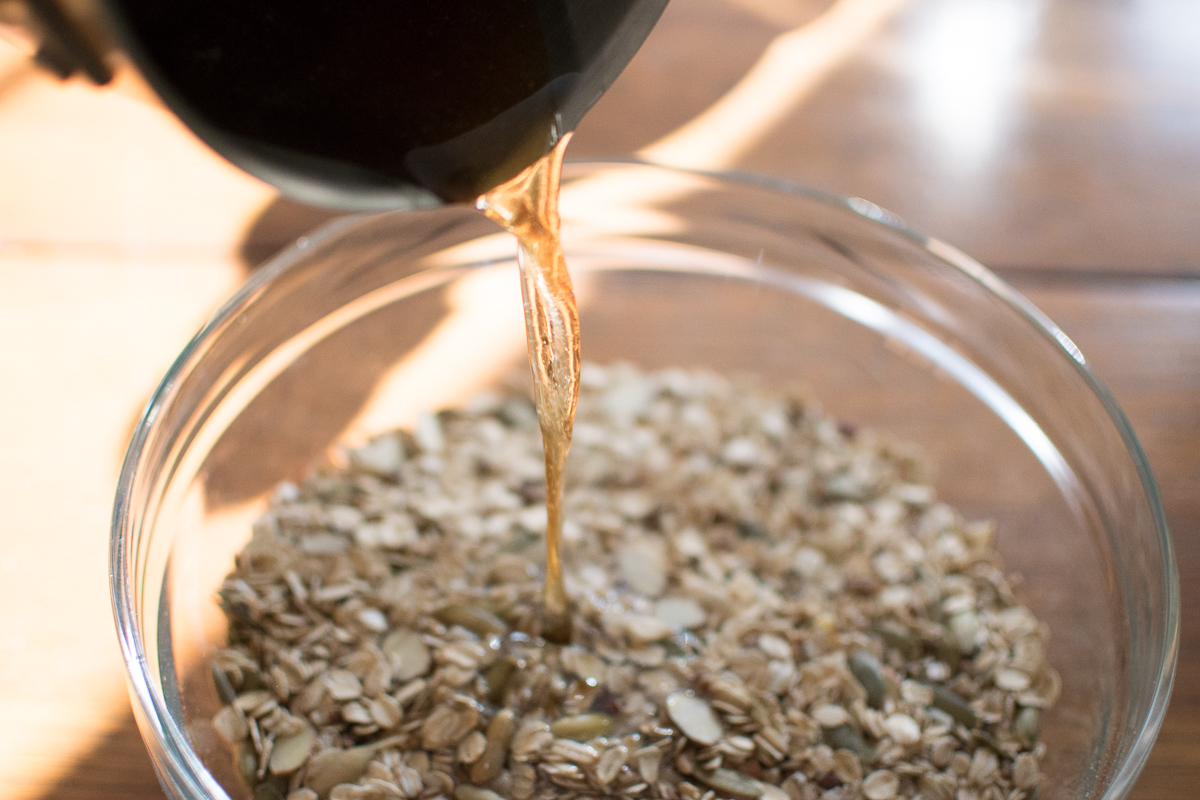 Ha, kind of a lame picture, but that's me adding the heated coconut oil, maple syrup, honey, and vanilla extract to the dry mixture. It's the best I could do with a hot pan in one hand and a heavy SLR in the other!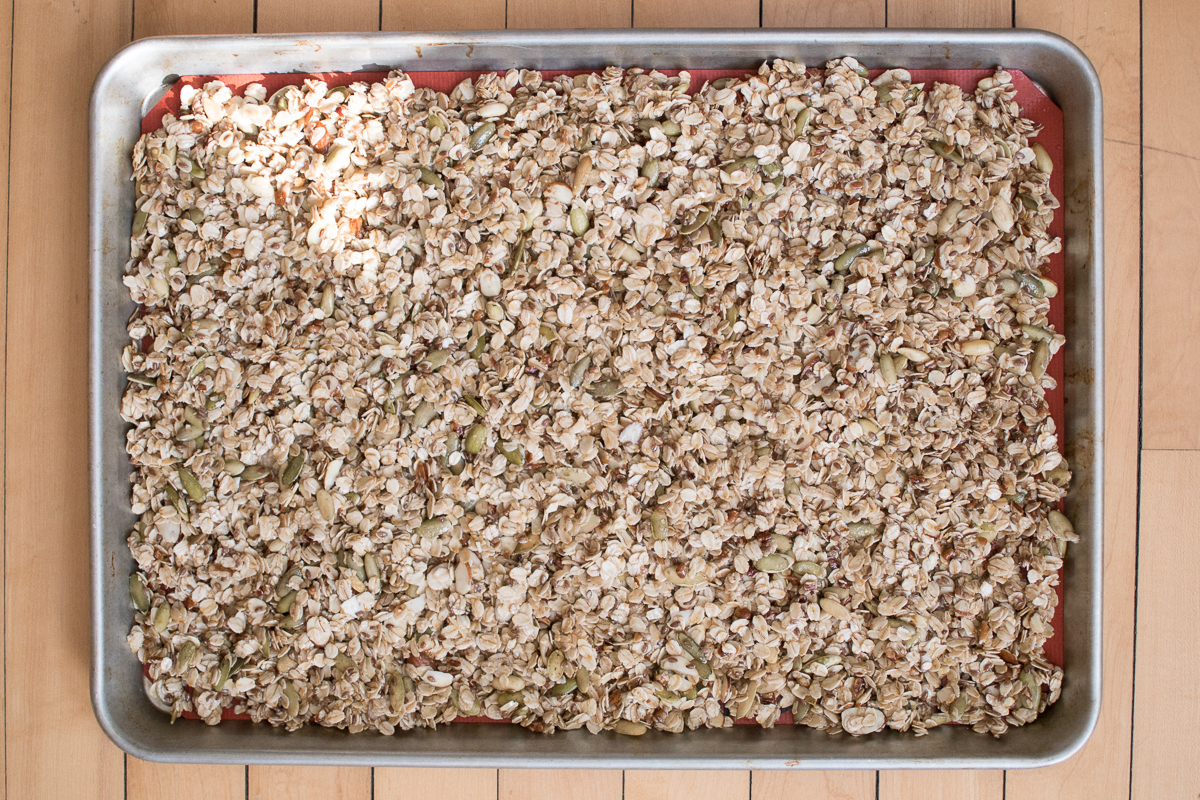 All mixed up and spread out onto a cookie sheet for baking. Make me proud, homemade granola.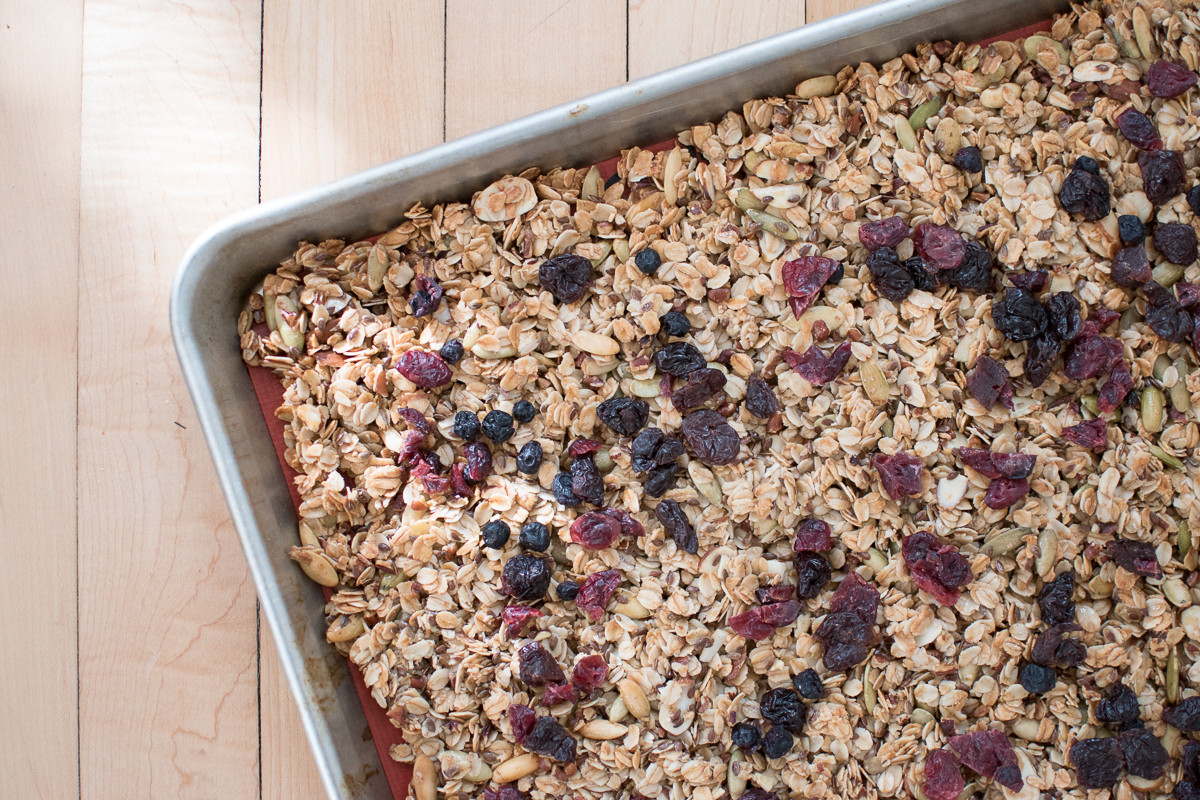 Done! Granola burns pretty easily in those last few minutes, so be careful. I added a mixture of dried blueberries, cranberries, cherries, and strawberries after baking. Yum!

Create-Your-Own Chunky Granola
This is a basic granola recipe that you can tweak to your heart's content. I've included guidelines and suggestions for lots of optional add-ins. Start with the first list of ingredients and then add an optional ingredient (or two or three) if you feel so inclined.
Ingredients
3 cups old fashioned oats
1 1/2 cups raw nuts or seeds of your choice*
1/4 tsp sea salt
1/3 cup coconut oil
1/4 cup maple syrup**
1/4 cup honey
2 tsp vanilla or almond extract
* Try combining different things here to get up to 1 1/2 cups—e.g. 1/2 cup sliced almonds, 1/2 cup chopped pecans, and 1/2 cup pumpkin seeds. Other options could be cashews, walnuts, or sunflower seeds. Just make sure everything you use is raw—not salted!
** You can substitute with honey here since maple syrup is expensive.
Optional Ingredients
1 cup shredded unsweetened coconut
1/4 cup chia seeds
1/4 cup flaxseed
2 tsp cinnamon
2 tsp pumpkin pie spice
1/2 cup cocoa powder
3/4 cup chopped dried fruit
3/4 cup semisweet chocolate chips
Method
Preheat your oven to 325 degrees F.
In a large bowl, combine the oats, nuts/seeds, sea salt, and any optional ingredients (except for dried fruit and/or chocolate chips, which you should save for the end if you're using). Stir well.
In a small saucepan over medium heat, combine the coconut oil, maple syrup, and honey. Whisk frequently for 3 minutes to combine. Add the extract and whisk once more.
Pour the hot mixture over the dry ingredients and stir well. Make sure the dry ingredients all get thoroughly coated.
Arrange your mixture on a baking sheet, spreading the mixture out into an even layer.
Bake for 18 to 23 minutes until oats are golden brown, turning the pan around halfway through to ensure even baking.
Remove the baking sheet from the oven. Add the dried fruit and/or chocolate chips to the granola without mixing. (This is key if you want chunks!)
Let the granola cool completely before you break it into chunks.
Store in a sealed container for up to 2 weeks.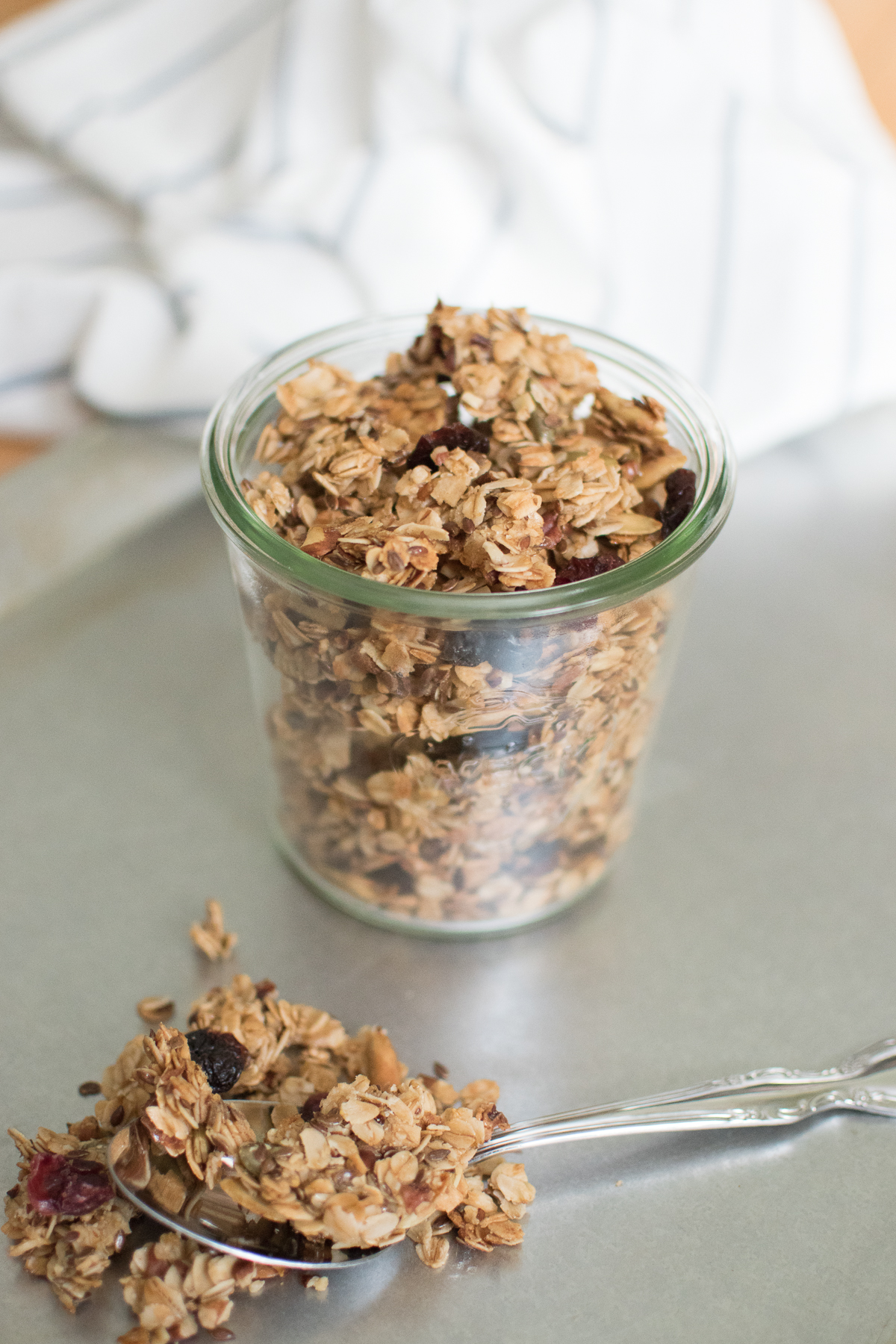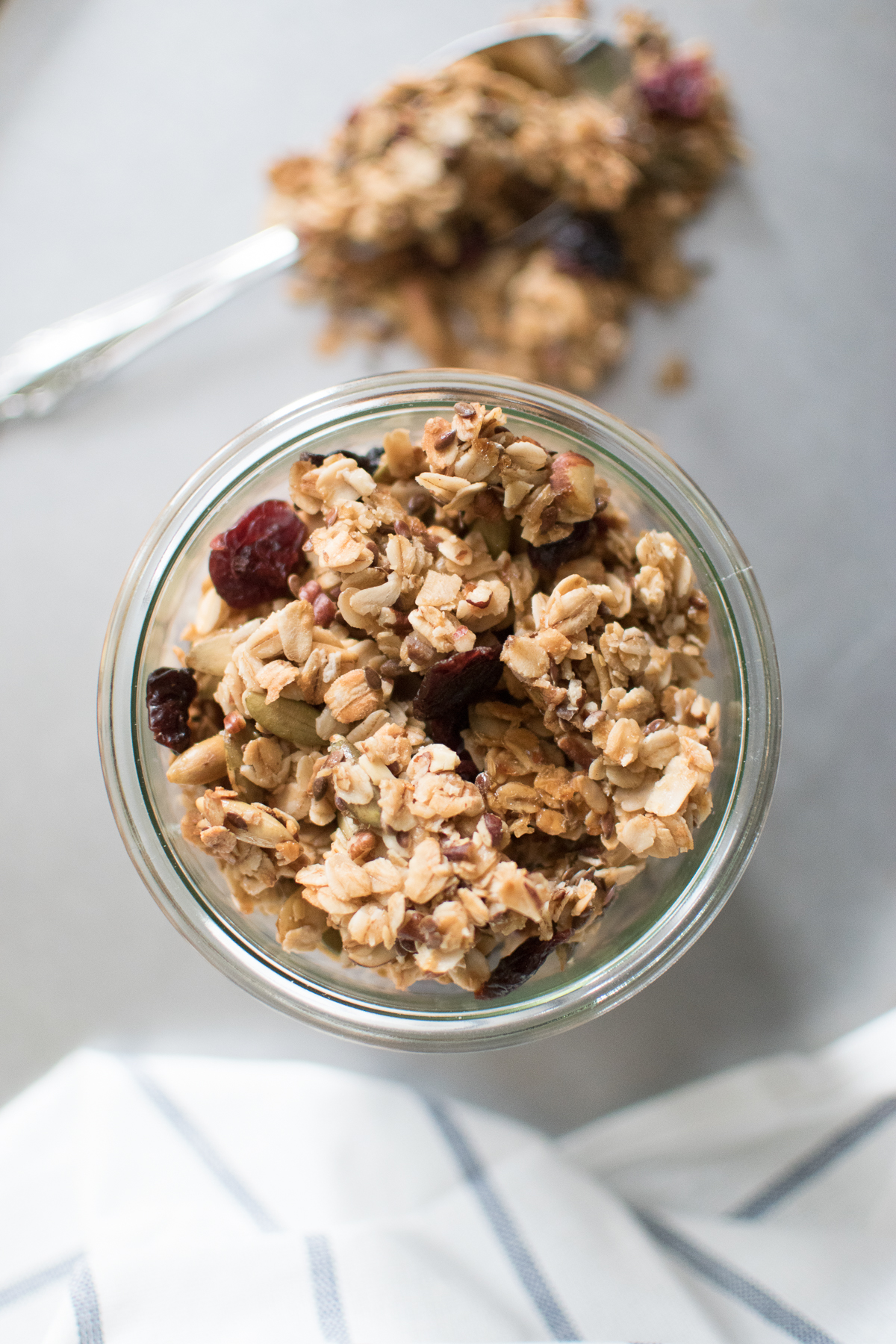 That's it for now. Happy baking!
xx Maurine