Mmm, have you ever tried these? They're so simple to use—heat up some milk, stir for a couple of minutes, bam. Hot chocolate with melted chocolate.
And what's great is hot chocolate stir sticks are really easy to make and customize to your own liking. You can use whatever type of chocolate you like and add a myriad of mix-ins like crushed candy canes, marshmallows, and extracts. Annnd they happen to make for some pretty sweet gifts. Literally. (Ha! Couldn't resist there.)
Alright, time for a tutorial, isn't it?
Let's start with a survey of the basic supplies…
HERE'S WHAT YOU'LL NEED
There are only 3 essentials, really. Heck yeah.

Large ice cube trays. (I like Chinkley Silicone Freezer Trays because they give you 1.5 ounce cubes!)
Large popsicle sticks. (Or you can use fancy wooden spoons like these.)
Chocolate for melting. (Unsweetened, milk, white…they all will taste great. Promise.)
Optional mix-ins. (See below.)

Optional Mix-Ins
You'll see more of what I mean in a moment, but basically you'll want to be thinking here of ways you can customize your stir sticks. What would you like to mix into your melted chocolate?

Crushed mints, candy canes, etc.
Mini marshmallows
Melted caramel (this one is tricky)
Cinnamon, sea salt, pumpkin spice, etc.
Extracts (Bakto Flavors Extracts has a ton on Amazon! Check ittt.)

From vanilla, banana, and raspberry to pistachio, coconut, and hazelnut…

Other flavorings and syrups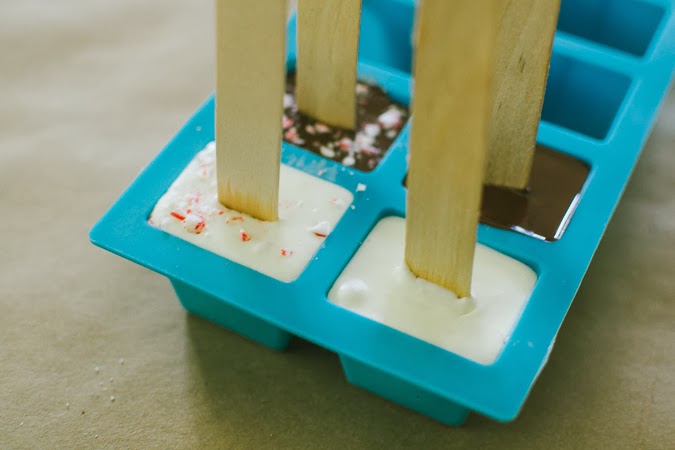 HOW TO MAKE HOT CHOCOLATE STIR STICKS
This is actually so simple that I feel silly writing out instructions.
Melt your chocolate. I recommend doing this gradually in the microwave. Then you can use different bowls for different types of chocolate. Oh, and melt more than you think you need.
Pour your chocolate into the ice cube wells. You'll want to pretty much fill it to the brim here. (WHOA. What if you put multiple types of chocolate in layers in one cube here??)
Add any optional mix-ins. For things like crushed candy canes and marshmallows, stir around a bit so you'll get some bits further down (which might show on the side later and look super prettay.)
Dip in your popsicle sticks. You'll have to hold them for a couple of minutes to help them stabilize, but I found that after a few minutes they managed to stand up pretty well on their own.
Let your stir sticks finish setting in the freezer.
Package them up for gift giving! Optional, of course. But I think little treat bags like these would work really well.
Heat up some milk.
Stir with a stir stick for about 2 minutes until the chocolate has melted.
Don't burn your mouth. Enjoy.
Love, Maurine