I wanted to create a Nutella-esque cake recipe without necessarily having to put Nutella in both the frosting and the cake. Hence, this recipe! I used this method of substituting nuts for flour when baking to create it. I'm really excited about this recipe in particular because 1) it took me four tries to get it right, and 2) I haven't seen many plain old hazelnut cake recipes out there. One thing of note: The baking temperature is 325 instead of 350. This batter doesn't rise as well at the usual 350.
Hazelnut Cake or Cupcakes
Makes 12 cupcakes or enough batter for one 9″ round cake pan. Double the recipe if you'd like a full-sized cake.
Ingredients
1 1/4 cups cake flour
1/2 cup finely ground hazelnuts
1 1/2 tsp baking powder
1/2 tsp salt
1/2 cup butter, cut into pieces
1 cup sugar
2 egg whites
1/2 cup milk
1 tsp vanilla
Method
Firstly, in case you haven't, you should check out my basic cake baking method and my list of cake baking tips! Every cake batter recipe I post follows that same method, and my cake baking tips are great tips to memorize for whenever you're preparing a cake batter such as this.
Preheat the oven to 325°F.
If you haven't made your "hazelnut meal" yet, go ahead and grind your hazelnuts finely. To do this, run the hazelnuts through the food processor until you get tiny crumbs. It's okay if you still have some bigger crumbs in there.
In a medium-sized bowl, sift together the flour, hazelnut meal, baking powder, and salt.
In a larger bowl, beat the butter at a high speed, and gradually beat in the sugar. Then, beat in the egg whites.
Now you will gradually be adding the dry mixture and the milk to the butter-sugar-egg mixture. To do this, alternate mixing in some of the dry mixture, followed by some milk, followed by some dry mixture… You get the picture. Do that until you've incorporated the dry mixture and the milk completely. Just don't over-mix here.
Finish by incorporating the vanilla and almond extract.
If you're making cupcakes, pour the batter into 12 greased or lined cupcake wells and bake for 20 to 26 minutes. If you're baking a cake, pour the batter into a greased 9″ round cake pan and bake for 35 to 45 minutes. Rely on the toothpick test here for a perfect cooking time—a toothpick inserted into the middle should come out with some crumbs on it.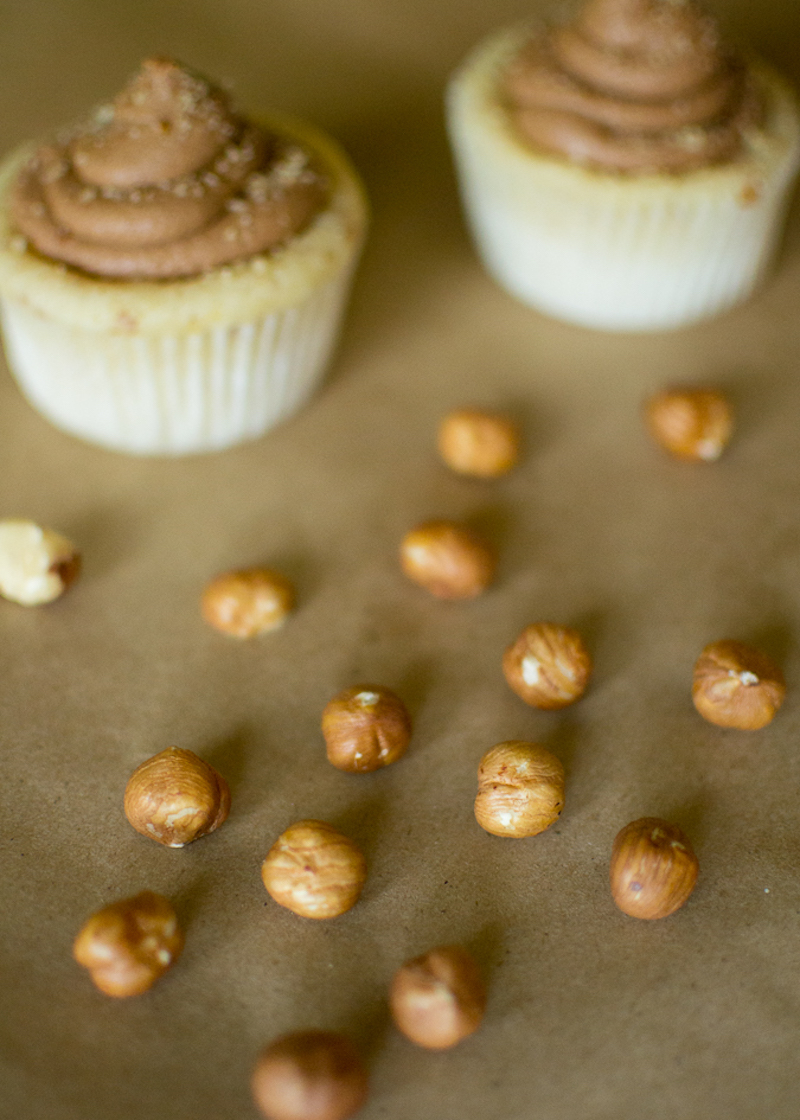 Stay tuned for a Nutella frosting recipe on Wednesday!
Love, Maurine