I've had the ingredients for this granola sitting in my pantry for weeks, and I finally found the time to make it! Putting this recipe together was simple because I just tweaked my basic chunky granola recipe from a few posts back. Nothing to it!
A couple people have asked me how I usually eat granola. I honestly just eat it kind of like cereal, using just a little almond milk. Buuuut I've also found that it tastes great on yogurt. This granola in particular tastes fantastic on the "touch of mango" Greek yogurt from Chobani. Ha, that probably sounds sponsored (it's not) — I just really like that yogurt because it has lots of protein and it's not loaded with sugar like most flavored yogurts are!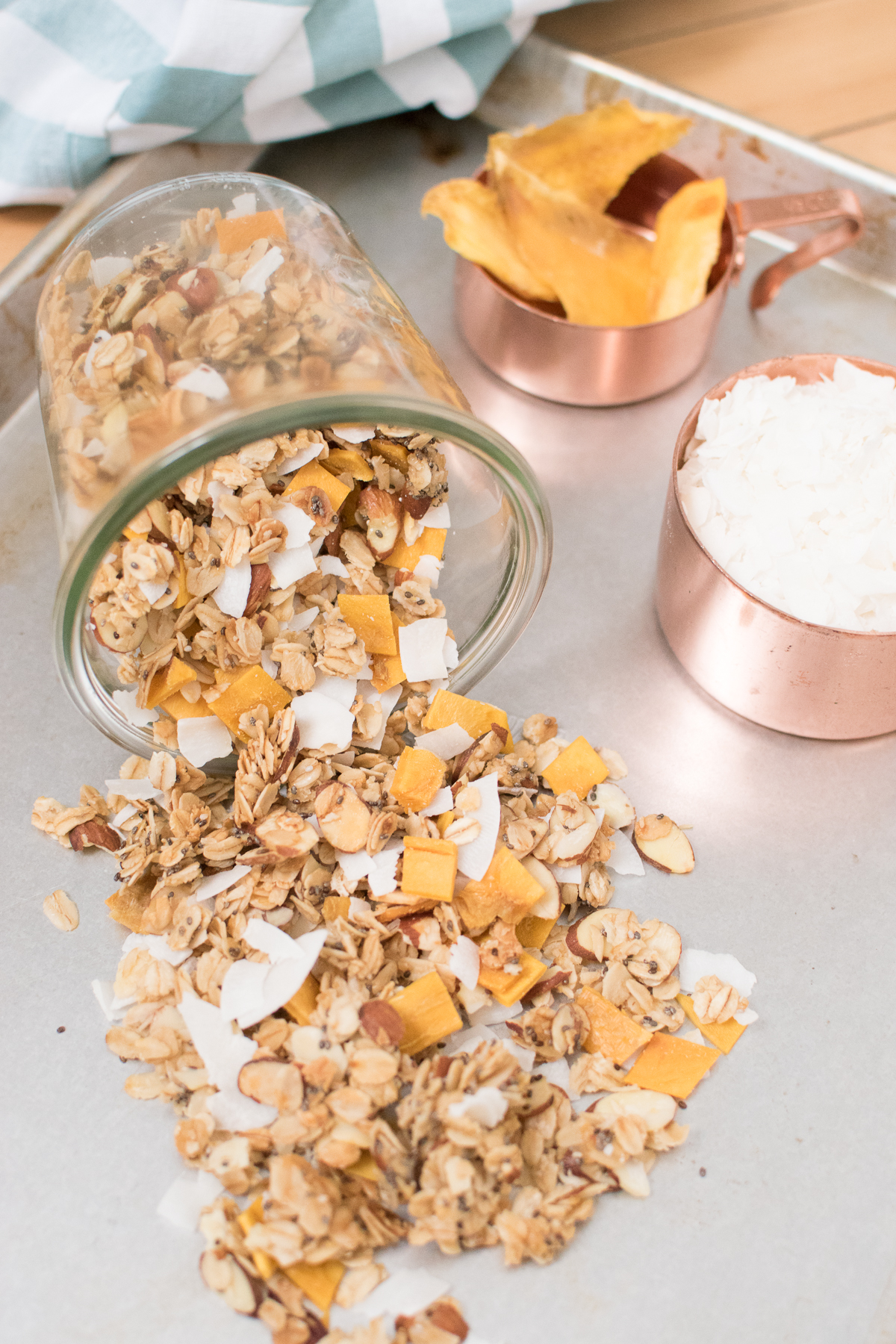 Before I show you the recipe, let me take you on a tour of the ingredients (mostly to answer any questions that might come up about them.)
Chia seeds. I went back and forth on whether or not to add these, and I'm so glad I did! I think they add some nice visual interest to the granola (not to mention some additional nutrition). If you don't have chia seeds or don't want to spend the money on them, you can totally leave them out. (By the way, I've found that Trader Joe's has chia seeds for the cheapest. The package looks like this, and they're only $4.99 in person.)
Virgin unrefined coconut oil. This is the kind of coconut oil that smells very strongly of coconut. I opted for this kind because I wanted to have as much coconut flavor as possible.
Coconut chips. I went for coconut chips instead of flakes here because I wanted more noticeable coconut pieces. Feel free to substitute with coconut flakes if you need to. Unsweetened chips can be hard to find, but I get them at Trader Joe's for $1.99. I recommend breaking your coconut chips up a little if they're big.
Dried mango. Dried mango has got to be my favorite dried fruit. As with the coconut, I went for unsweetened here because I try to cut down on sugar when I make granola. If you want your granola to have a more pronounced coconut and mango flavor, then you should go for the sweetened forms of these ingredients.
Keep scrolling (or swiping) for the recipe!
Coconut Mango Chia Granola
Ingredients
3 cups old fashioned oats
1 1/2 cups raw sliced almonds
1/4 cup chia seeds
1/8 tsp sea salt
1/3 cup virgin unrefined coconut oil
1/4 cup maple syrup
1/4 cup honey
2 tsp vanilla extract
1 cup shredded unsweetened coconut chips
3/4 cup chopped dried unsweetened mango
Method
Preheat your oven to 325 degrees F.
In a large bowl, combine the oats, almonds, chia seeds, and sea salt. Stir well.
In a small saucepan over medium heat, combine the coconut oil, maple syrup, and honey. Stir frequently for 3 minutes to combine. Add the extract and stir once more.
Pour the hot mixture over the dry ingredients and stir well. Make sure the dry ingredients all get thoroughly coated.
Arrange your mixture on a baking sheet, spreading the mixture out into an even layer.
Bake for 18 to 23 minutes until oats are golden brown, turning the pan around halfway through to ensure even baking.
Remove the baking sheet from the oven. Add the coconut chips and chopped mango to the granola without mixing. (This is key if you want chunks!)
Let the granola cool completely before you break it into chunks.
Store in a sealed container for up to 2 weeks.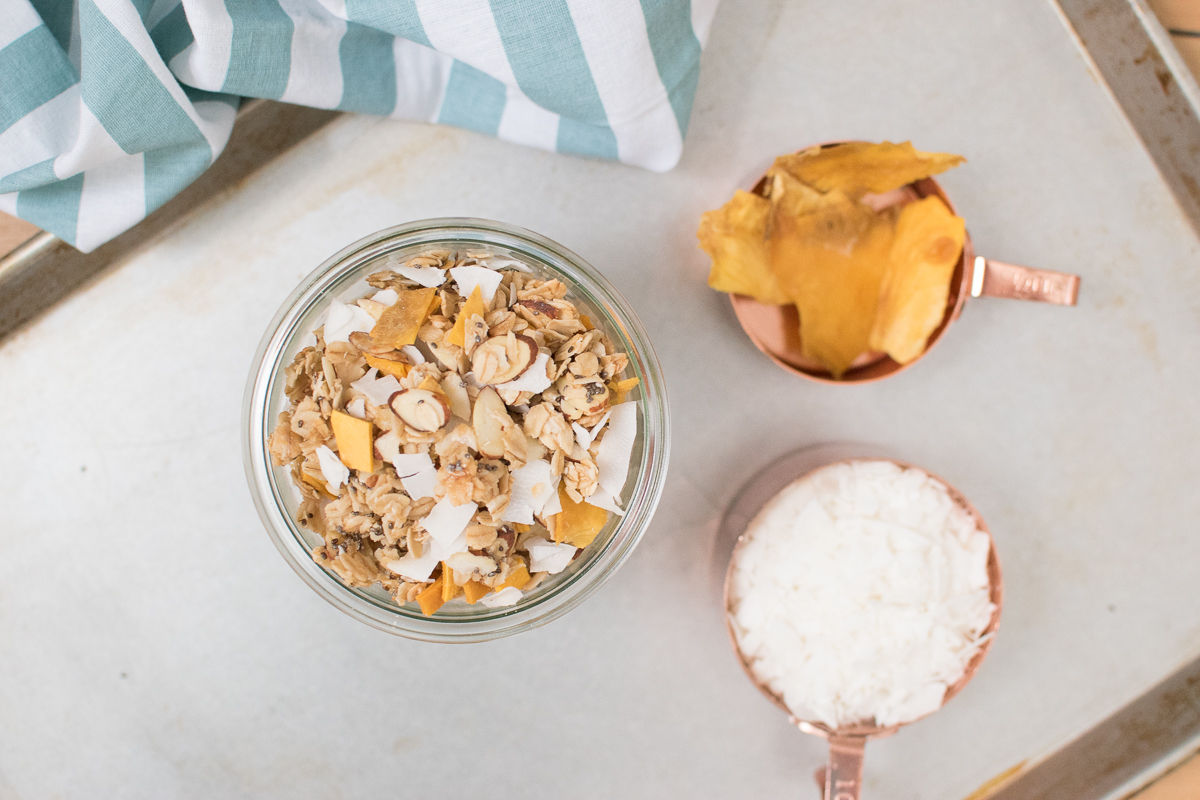 Note: This blog post contains Amazon Affiliate links, which means I get a small commission if you happen you purchase anything using these links (at no cost to you). Just a heads up — I never link to anything I wouldn't be linking to anyway!