I present…the second of two successful coconut cake recipes I tried out last week. This is a great way to transition a summer flavor into the fall season, non?
Cinnamon Coconut Cake or Cupcakes
Makes 14 cupcakes or just over enough batter for one 9″ round cake pan. Double the recipe if you'd like a full-sized cake. (Remember: It's okay to have extra batter! It's better to freeze the extra than to add more batter than you should in the cake pan.)
Ingredients
1 1/2 cups cake flour
1 tsp baking powder
1/2 tsp salt
1/2 cup butter, cut into pieces
1 cup sugar
2 egg whites
3/4 cup coconut milk
1 tsp vanilla
1 cup sweetened coconut flakes
1 tsp cinnamon
Method
Firstly, in case you haven't, you should check out my basic cake baking method and my list of cake baking tips! Every cake batter recipe I post follows that same method, and my cake baking tips are great tips to memorize for whenever you're preparing a cake batter such as this.

Preheat the oven to 350°F.
In a medium-sized bowl, sift together the flour, baking powder, and salt.
In a larger bowl, beat the butter at a high speed, and gradually beat in the sugar. Then, slowly beat in the egg whites.
Now you will gradually be adding the dry mixture and the coconut milk to the butter-sugar-egg mixture. To do this, alternate mixing in some of the dry mixture, followed by some milk, followed by some dry mixture… You get the picture. Do that until you've incorporated the dry mixture and the coconut milk completely. Just don't over-mix here.
Finish by incorporating the vanilla, coconut flakes, and cinnamon.
If you're making cupcakes, pour the batter into greased or lined cupcake wells and bake for 16 to 22 minutes. If you're baking a cake, pour the batter into a greased 9″ round cake pan and bake for 30 to 40 minutes. Rely on the toothpick test here for a perfect cooking time—a toothpick inserted into the middle should come out with some crumbs on it.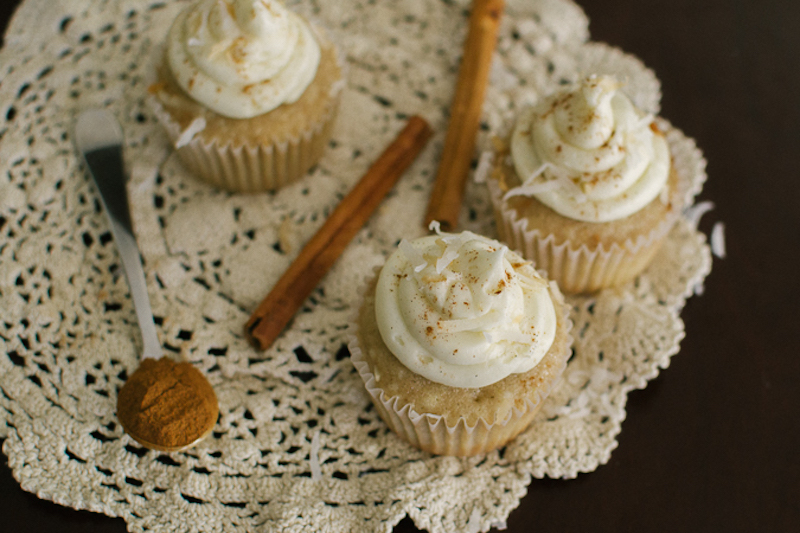 Note: I like to garnish these with some coconut flakes and cinnamon sprinkled on top. If you are going to sprinkle cinnamon, I recommend tapping the jar over the cupcakes instead of lightly shaking it; it leaves less room for error.