It's high time I posted a carrot cake recipe on this here blog, huh? After a few tries, I can finally present a recipe I'm happy with. In this recipe, I give you the choice between using white and brown sugar. Two things worth noting on the sugar: 1) which you choose will affect how dark the cake is ever-so-slightly, and 2) brown sugar tends to add moisture. I recommend using a combination of the two, as this cake is pretty moist already without using brown sugar, but it's still totally up to you!
Carrot Cake or Cupcakes
Makes 12 cupcakes or enough batter for one 9″ round cake pan. Double the recipe if you'd like a full-sized cake.
Ingredients
1 1/2 cups flour*
1 tsp baking powder
1/2 tsp salt
1 tsp cinnamon
1/2 tsp nutmeg
1/2 cup butter, cut into pieces
1 cup white or brown sugar**
2 eggs
1/2 cup milk
1 tsp vanilla
3/4 cup carrots, finely chopped***
1/2 cup walnuts or pecans, finely chopped
* Use all-purpose flour for a denser texture, and cake flour for a lighter, more airy texture.
** Brown sugar tends to add a little moisture to your cake—I opted for half white and half brown sugar here and got just the right about of moisture I wanted.
*** Yeesh, this is a lot of footnotes. Heh, this is just to say that a food processor is your best friend here.
Method
Firstly, in case you haven't, you should check out my basic cake baking method and my list of cake baking tips! Every cake batter recipe I post follows that same method, and my cake baking tips are great tips to memorize for whenever you're preparing a cake batter such as this.

Preheat the oven to 350°F.
In a medium-sized bowl, sift together the flour, baking powder, salt, and spices.
In a larger bowl, beat the butter at a high speed, and gradually beat in the sugar. Then, slowly beat in the eggs.
Now you will gradually be adding the dry mixture and the milk to the butter-sugar-egg mixture. To do this, alternate mixing in some of the dry mixture, followed by some milk, followed by some dry mixture… You get the picture. Do that until you've incorporated the dry mixture and the milk completely. Just don't over-mix here.
Finish by incorporating the vanilla, shredded carrot, and nuts.
If you're making cupcakes, pour the batter into 12 greased or lined cupcake wells and bake for 16 to 22 minutes. If you're baking a cake, pour the batter into a greased 9″ round cake pan and bake for 30 to 40 minutes. Rely on the toothpick test here for a perfect cooking time—a toothpick inserted into the middle should come out with some crumbs on it.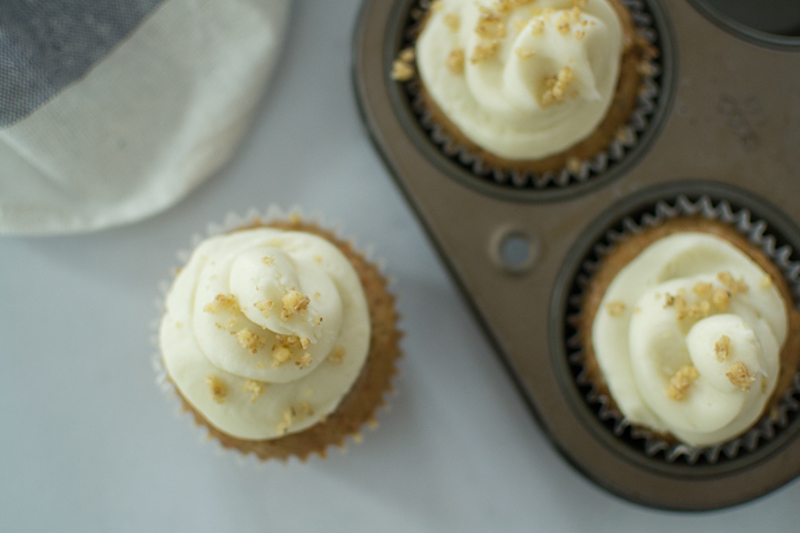 This type of cake is most commonly topped with cream cheese frosting and garnished with chopped or sliced walnuts.