Exciting—I was asked by Paper Crafts magazine to write a post for this week's blog hop + giveaway, sharing my favorite holiday treat and a stylin' way to package said treat. Nifty, eh? And what's even more exciting is you can win a free copy of Paper Crafts' Holiday Cards & More, Vol. 8 at the end of this post!
Did you know that you can bake cake batter in Mason jars? No? Oh my gosh, was your mind just blown? It's okay. Mine was too when I found out.
Two things you should know about baking with jars:
Don't try canning your cake by sealing the lid on top of the jar right when you take it out of the oven. Some may have success with this, but most generally agree that this isn't safe, bacteria-wise.
Use wide-mouth jars. A jar with a narrower mouth will complicate things for ya.
It works, I promise! But if you are nervous about baking in jars, know that another option is to bake the cake normally and then break it into pieces for your jars, adding spoonfuls of frosting here and there for a parfait-like treat.
(You can use any type of cake batter for this, but here's pumpkin!)
Mason Jar Pumpkin Cakes
Makes enough batter for about six tall 12-ounce Mason jars.
Ingredients
1 3/4 cups cake flour
1 tsp baking powder
1/2 tsp salt
1/2 cup butter, cut into pieces
3/4 cup sugar
3/4 cup brown sugar
2 eggs
1 cup pumpkin purée
1 1/4 tsp vanilla
1 1/2 tsp cinnamon
1 tsp allspice
1/2 tsp nutmeg
Method
If you haven't already, you should check out my basic cake baking method and my list of cake baking tips! Every cake batter recipe I post follows that same method, and my cake baking tips are great tips to memorize for whenever you're preparing a cake batter such as this.
First, clean your jars and lids thoroughly and dry them completely. Then grease the jars on the insides.
Preheat the oven to 350°F.
In a medium-sized bowl, sift together the flour, baking powder, and salt.
In a larger bowl, beat the butter at a high speed, and gradually beat in the sugars. Then, beat in the eggs one at a time.
Now you will gradually be adding the dry mixture and the purée to the butter-sugars-egg mixture. To do this, alternate mixing in some of the dry mixture, followed by some purée, followed by some dry mixture… You get the picture. Do that until you've incorporated the dry mixture and the purée completely. Just don't over-mix here.
Finish by incorporating the vanilla and spices.
Baking time. Fill your jars just over halfway with batter. Then, set your jars in a cake pan or baking dish—give them some breathing room here—and add some water to the bottom of the pan or dish. This creates a hot water bath that helps prevent the glass from breaking in the oven.
Bake for 30 to 40 minutes. Use a skewer to test for doneness.
Remove the jars from the oven and let them cool completely. Finish by piping your favorite frosting into the remaining space in the jar. I used my caramel frosting recipe here (coming soon!), but feel free to change it up with another frosting recipe such as one of these.
Note: I find that it's best if you leave some room between the top of the frosting and the lid. It makes it easier to see the frosting in there and makes for better presentation.
They look heavenly, am I right?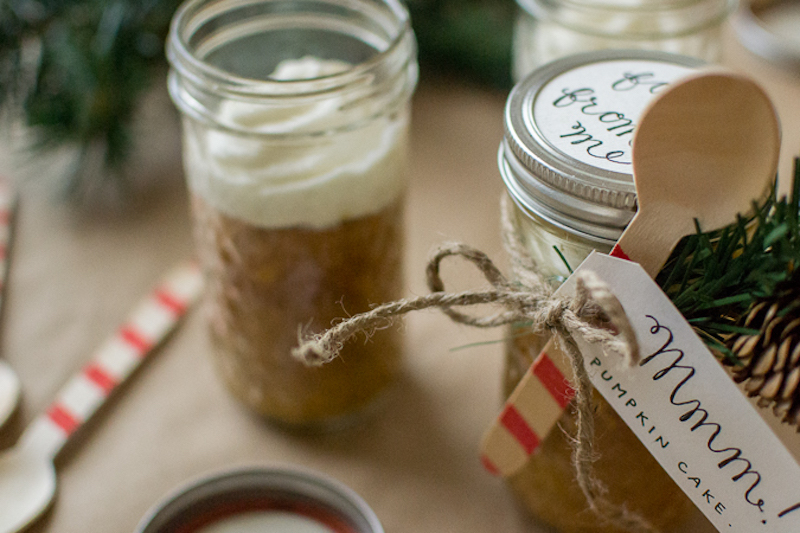 Decorating Your Jars for Gift Giving
Good news! You're already part of the way there since you baked the cake right in the jars. Now feel free to decorate your jars to your heart's content with ribbon, tags, paper labels, and the like. Here's what I did for mine:
Supplies
vanilla cardstock
tag
black ink pen or stamps and ink
jute
striped wooden spoons
sprigs of pine needles or the like (bonus points if you get it outside for free)
Instructions
Cut out a circle from the vanilla cardstock to fit inside the lid of the jar.
Decorate your circle and tag with the black ink pen. I wrote "for you from me" and "Mmm! Pumpkin cake." in lettering à la Lindsay Letters using the technique I discuss in this Paper Crafts post. (You can, of course, use stamps and ink for this, but I being the nomad I am at the moment don't have a heavy supply of stamps and such on hand. So…ink pen it is!)
Secure the cardstock circle inside the lid of your jar.
Cut a piece of jute long enough to go around the circumference of your jar twice.
Use the jute to tie the spoon, sprig, and tag in place. Finish with a bow.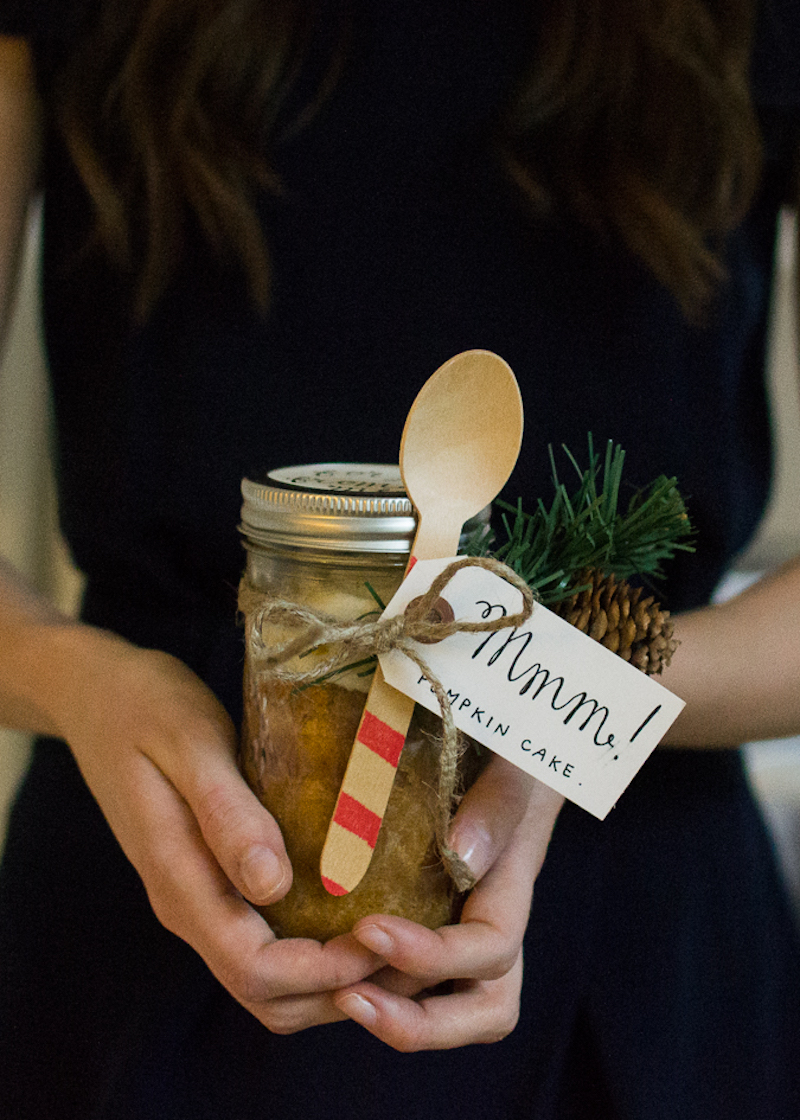 Aw… C'est si mignon.
Free Giveaway: Win a Copy of Holiday Cards & More, Vol. 8!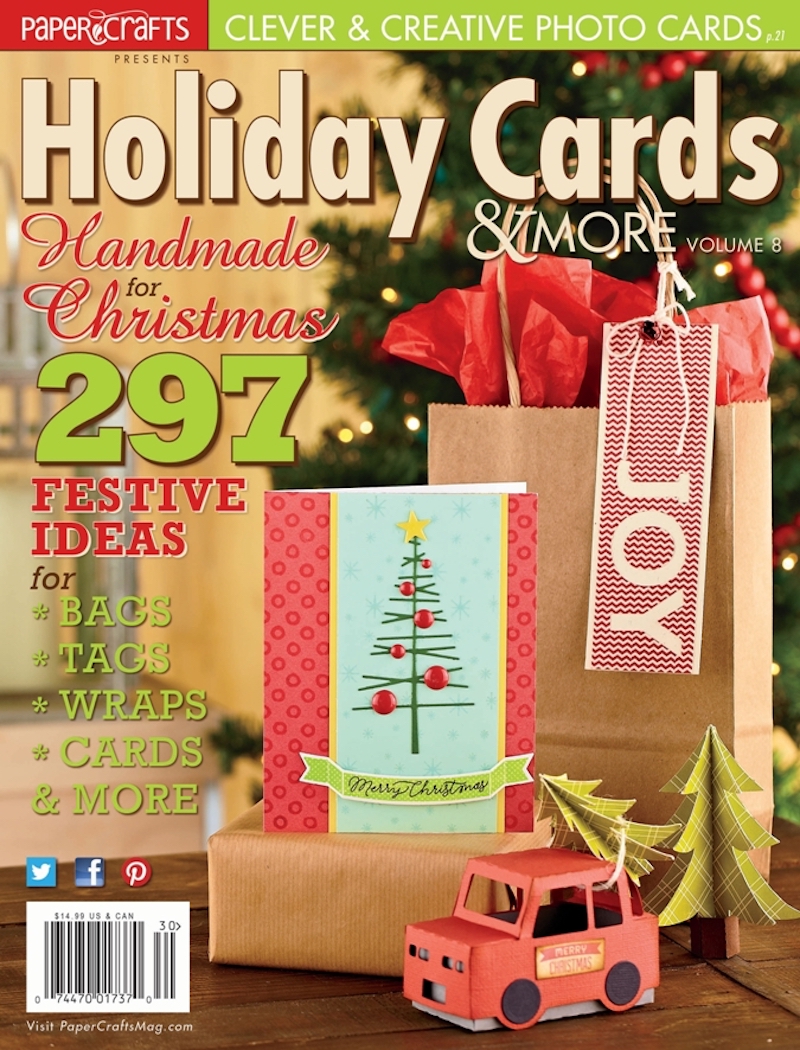 Are you just so pumped now for packaging treats come next holiday season? Want 297 more ideas for festive bags, tags, cards, wraps, and more? Then enter to win a copy of Holiday Cards & More, Vol. 8, courtesy of Paper Crafts magazine! To enter, simply leave a comment on this post telling me what your favorite holiday treat is, and one commenter will be selected at random.
This giveaway is open until Tuesday, August 13, so check back here on Wednesday, August 14 to see if you won!
And by the way, here are the other gals participating in this week's Paper Crafts blog hop in case you missed 'em.

Lorena Cantó Lavería
Kalyn Kepner
Erin Lincoln
Jeanne Jachna
Nina Yang
Amanda Coleman
Karolyn Loncon
Kelly Griglione
Vera Wirianta Yates
And don't forget to head back to Paper Crafts Connection for another sweet giveaway!
Let the commenting begin!
Love, Maurine