I get a lot of questions about which kitchen utensils I prefer when baking, so today I thought I'd share my "top 7 baking utensils." This list applies most specifically to baking cupcakes, but I think anyone who enjoys baking could benefit from this list.
Why 7? Because that happened to be how many items I strongly recommend, that's why 😉 This is not a definitive list by any means, but these are definitely the things that I love and swear by the most! I get very specific about brand and features, so pay attention, mmkay?
—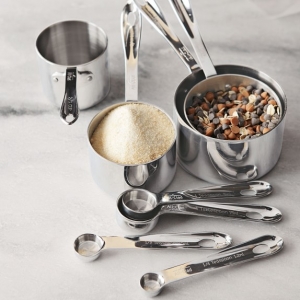 1. High Quality Measuring Cups & Spoons
If you're going to splurge on one thing, I really think it should be your measuring cups and spoons. Think about it—you use them probably multiple times a day. (In fact, I have three sets and use at least two every day.) The best measuring cups and spoons have secure and sturdy handles (especially important for anyone who has a tendency to scoop flour with their measuring cups) and engraved measurements which won't rub off.
My pick: All-Clad Stainless Steel Measuring Cups and Spoons
Photo cred: Williams-Sonoma
2. Kitchenaid Hand Mixer
I'm going to say something very divisive and controversial here: you don't need a stand mixer. Seriously. I love my stand mixer with my whole heart and use it on the reg, but if you're a sane person who doesn't want to throw down hundreds of dollars on a stand mixer, don't. This little guy will keep you very happy for many years to come. I think this mixer is great because 1) its low speed is a true, low speed, and 2) it's remarkably quiet.
My pick: Kitchenaid 7-Speed Hand Mixer
Photo cred: Crate and Barrel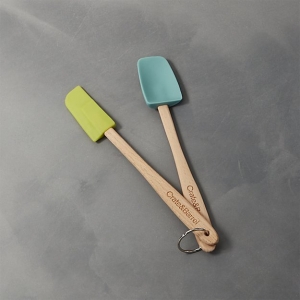 3. Mini Rubber Scrapers
You probably have some standard size rubber scrapers (or spatulas, as everyone calls them) lying around if you love to bake, but I highly recommend adding some mini ones to your collection. I use them all the time to scrape ingredients out of measuring cups, scoop frosting into the piping bag, etc. Brand doesn't really matter here because it's hard to mess up a rubber scraper!
My pick: Crate and Barrel Cool Mini Spatulas
Photo cred: Crate and Barrel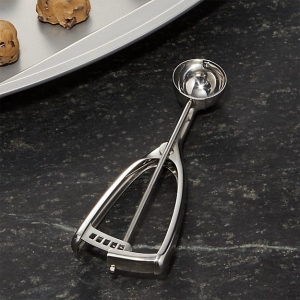 4. Cookie Dough Scoop
These little guys are the best for scooping cake batter into cupcake wells (and for scooping cookie dough too, I guess…haha.) I really like 1.5 TB sized ones. I've actually used a few different kinds because somehow I seem to always misplace these. I recently got the OXO one, and while I love a lot of their products, I actually didn't love their cookie dough scoop! Mine constantly falls apart. Maybe buy your cookie dough scoop in person so you can test its functionality before you buy.
My pick: Whatever works when you test it at the store!
Photo cred: Crate and Barrel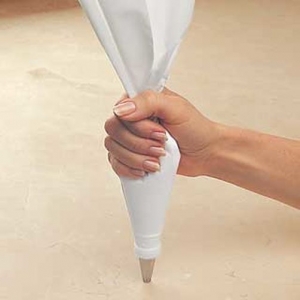 5. Wilton Featherweight Piping Bags
Reusable piping bags are great for piping frosting onto cupcakes or cake, and I personally think Wilton's are the best. They're nice and flexible. Go for a 14-inch piping bag or larger—anything smaller is going to be annoyingly small when frosting a dozen cupcakes.
My pick: Wilton 14-Inch Featherweight Piping Bag
Photo cred: Wilton (best pic I could find haha)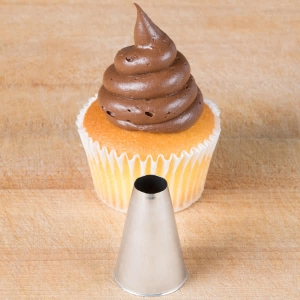 6. Extra Large Circle and Star Piping Tips
Now, I know I just recommended Wilton's piping bags, but I actually prefer Ateco's piping tips! The #806 plain tip has a nice, large opening, and the #824 star tip has fewer points, which I think looks better for frosted cupcakes. I use these two tips 95% of the time. I got both tips in this Ateco 3-Piece Set, which is actually cheaper than buying the tips separately (plus it comes with a reusable piping bag!) You can use these tips without a coupler—just slide one into the piping bag and you're ready to go.
My pick: Ateco #806 Plain Tip and #824 Star Tip
Photo cred: Amazon
7. Large Clear Canisters
These aren't a baking utensil, per se, but I think belong in any baker's kitchen. Large clear canisters make organizing staple ingredients like flour and sugar a cinch, and the large opening at the top makes it easy to scoop out and level with minimal mess. I recommend the 64-ounce canisters for things like flour and sugar and the 32-ounce canisters for things like almond meal and coconut sugar.
My pick: Anchor Hocking 64-Ounce Acrylic Round Canisters
Photo cred: The Container Store