If you've ever visited the "recipes" section on this blog, then you know that I love to get creative with cake recipes! I love thinking up creative flavors for cakes and then finding the right recipe to make them a reality. I have kind of a system when it comes to creating new cake recipes. If I want a nut flavored cake, for example, I will add ground nuts and alter the flour proportions accordingly in order to let that nutty flavor shine through the cake. If I want a citrus flavored cake, on the other hand, I will incorporate fresh lemon, lime, or orange zest into the recipe.
There's one type of ingredient that I've found is incredibly difficult to bake with, and that's fresh fruit. There's just something about fresh fruit that really throws off the chemistry of a cake recipe—especially berries and apples. Most of my attempts to bake with fresh strawberries, blueberries, apples, pears, etc. have ended in cake that is much too moist, won't rise, and hardly light and fluffy the way cake should be. It's gotten to the point before where I was almost tempted to bake with extracts rather than the real thing. (But doesn't that take half the fun out of it?)
So as I've begun to figure out how to bake with fresh fruit (and how not to bake with fresh fruit), I thought I'd share my best tips with you! Here are some tips for baking with fresh fruit, while still maintaining the integrity of your cake or other baked good.
Bake with what's in season.
First, I think it's important to plan your baking around what's in season. This helps you get the highest quality fruit for your baked goods—not to mention you can enjoy picking out your fresh fruit at a farmer's market or roadside fruit stand. This list can give you a quick look at which fruits are at their peak by season.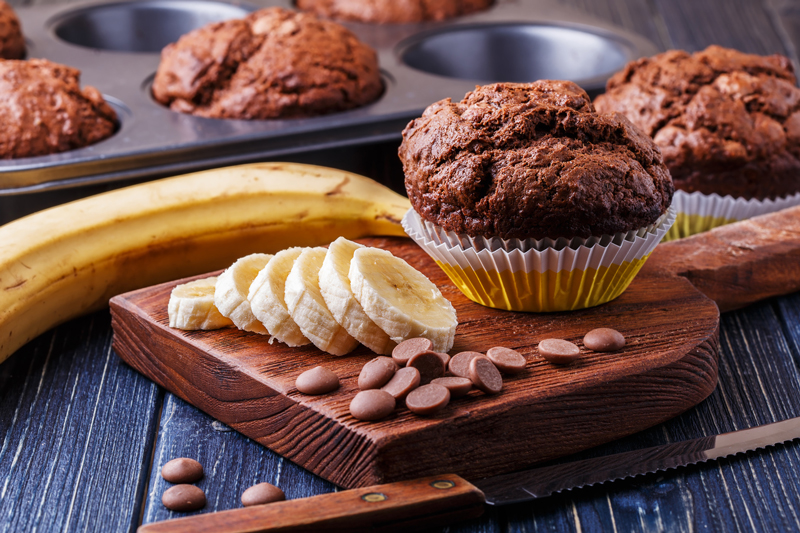 Start with bananas.
If you're looking to bake with more fresh fruit and raw ingredients, I think baking with bananas is a great place to start! Bananas are pretty much always in season, and the overripe ones that we are frequently left with are perfect for baking. In fact, feel like bananas are kind of this magical fruit that was almost made for baking. You'll find recipes that use it as a substitute for eggs (which are almost irreplaceable, in my book), and often bananas serve as a foundational ingredient in cake, muffin, and bread recipes. This article mentions that you can even make donuts with bananas!
Cut large pieces of fruit into smaller pieces.
It might be tempting to leave larger fruit chunks in your cake or bread, but fruit is heavier than batter and will therefore sink to the bottom during baking. For this reason, it's a good idea to cut larger pieces of fruit, like strawberries and pineapple, into smaller pieces before adding them to your batter.
When dicing fruit, use a sharp knife.
If you need to dice fruit for cake, bread, muffins, or anything else, don't reach for just any knife. I highly recommend using an extra sharp knife to dice your berries, apples, pineapple, etc. This will help you actually dice your fruit without juicing it as you go, keeping the juice inside the fruit where it should be.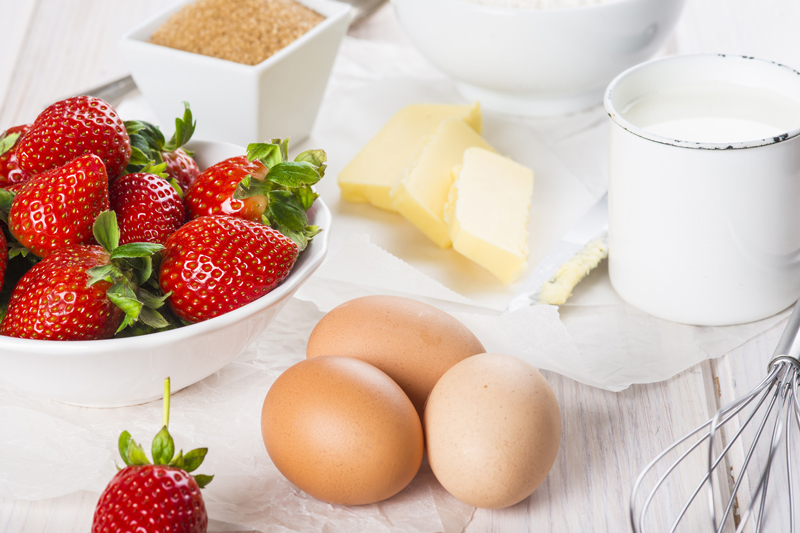 Pat freshly cut fruit dry.
Too much fruit juice is what can really throw off a recipe, making your cake or bread oddly moist and sticky. So whenever you're working with freshly cut fruit, be sure to pat it dry as much as you can before adding it to your batter.
Roll fruit in flour or cocoa powder.
This might be my top tip here. Whenever you're adding fruit pieces and berries to batter, be sure to roll them in flour or cocoa powder first! This helps keep them from sinking once they're in the batter, and I think it also helps keep seeping fruit juices from interfering with the rest of the batter. Use flour when working with most recipes, and use cocoa powder whenever you're working with a chocolate based recipe.
Reserve some of your fruit for the very end.
This tip comes in handy whenever you're baking any sort of cake, bread, or muffin where you want to see the individual fruit pieces. Whenever you're preparing a batter that includes small pieces of fruit, save a few pieces of fruit for adding to the batter right before you put it in the oven. For example, if you are making blueberry muffins, save a few small blueberries and set them on top of the batter once it's already distributed between the wells in the muffin pan. This will give you muffins that actually have fresh blueberries right on top, where you want to see them.