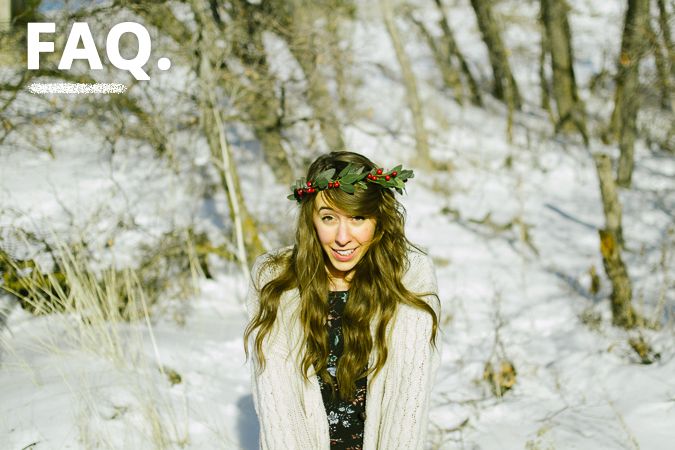 How did you decide on the name of your blog?
Well, "Maurine Dashney" is my first and middle name.
Fun fact
: "Dashney" is actually the English rendering of the French "Dagenais." Both names are in my family if you go way back. Anyhow, I decided to give the blog my own name so that whatever I choose to write about will always be relevant. And I went with my middle name because 1) I quite like it, and 2) I won't have to worry about the blog title when I get married.
I love the layout of your blog! How did you design it?
I can only really speak to Blogger since that's what I use. First, you should study the layouts of a few of your favorite blogs to figure out what your goals are for your own. Then, it's really just a matter of doing research and figuring how to manipulate HTML correctly (and cleanly). Try a blog designing e-course; there are so many out there!
How did you purchase a domain name for your blog?
Domain names are easy—and affordable if they're specific enough. I purchased mine through
GoDaddy
.
I also love that photo of you with the floral crown in your sidebar, by the way. Who took it?
This photo is from a fun photo shoot I did with
The House That Lars Built
. The floral crown is by
Tinge Floral
, and the photo is by
Ciara Richardson
.
All Utah folk.
What camera equipment do you use?
I'm a Nikon gal, and as of right now I'm using the
Nikon D5500
.
It came with an 18–140mm lens that I haven't used a ton yet but am looking forward to trying. My former camera was the
Nikon D3100
. Do I swear by Nikon? Nope. You could just as easily go with Canon—I've shot with their camera gear as well, and it's really just a matter of preference (or what resources are most readily available to you). As for lenses, I generally use a
35mm f/1.8G
, but there are some
18–55mm f/3.5–5.6G
photos on here as well.
What photo editing software do you use?
I've got
Lightroom 4
and
Photoshop CS6
. My version of Photoshop actually came as a bundle with Illustrator and InDesign. (Get these while you're a student for a sweet discount!) I tend to stay in Lightroom unless I have to do something really drastic with my photos.
I also have the
VSCO FILM 01
presets, which have really helped to streamline my post-production process.
Do you come up with all of your own recipes?
I do! Well, to the best of my knowledge, anyhow. I do my best not to duplicate anything that's already out there. Especially when it comes to cake recipes—I put tons of experimentation into those. Of course, with recipes that have just a couple of ingredients or with things like "how to bake a potato," there's only so much personalization you can do there. That's where I experiment on my own and add as much helpful insight as I can. I also try to include as many customization possibilities as is possible with recipes. In my
baked potatoes post
, for example, there are tons of ideas for toppings. So hopefully you're learning more than just how to follow a recipe here.

How do you bake so often and still stay healthy?
Ha, I felt weird posting this question, but I get asked it semi-often. While of course I taste the things I make, I like to make dessert an every-so-often indulgence. A beautiful cake or cupcakes for an extra-special occasion? It's my absolute favorite. But I'm actually kind of a health nut when it comes to everyday eating. Slash I'm kind of a workout fiend ;)
Why don't you drink coffee?
I prefer sleeping.